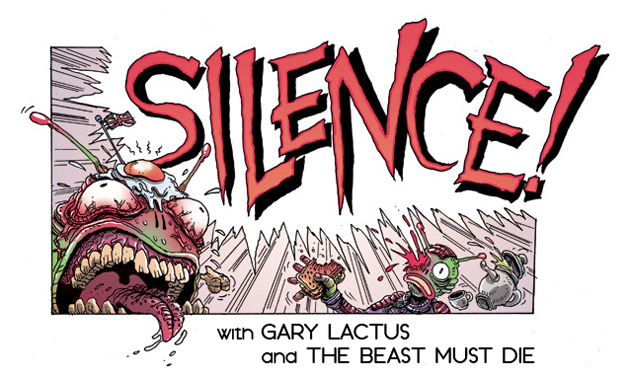 JUST REMEMBER, ALL CAPS WHEN YOU SPELL THE MAN'S NAME!
10 days and a wake up and Disembodied Narratorbot X-15735 will be  rotating back into the quadrosphere, away from this blurb, this tedious podcast, and your grim grey visages…but until then I suppose the fleshy charade must continue.
Oh and I suppose some mention should be made of the extreme generosity of the listeners in ensuring that Gary Lactus & The Beast Must Die can continue to block up the internet with their inane aural clag. The sentimentality of weeping meat knows no bounds it would appear. Well if those two red-faced blowhards even dream of upgrading to a newer model of Narratorbot…well let's just say there will be human sushi served all round.
HA HA, as if they would.
<ITEM> No SILENCE! News as Lactenberg & Beastman are still in The Bad Books of Silence. Instead enjoy some jingles in honour of our sainted benefactors. Commercial entropy here we come!!
<ITEM> The Reviewniverse reaches out it's 4-D tentacles and sucks us all in to it's endless horrors. As all of our realities merge into a 4-colour stew, the boys cover Godzilla, Batman LOTDK, The Intractible Hulk, Red She-Hulk, Aquaman, Earth 2, Dial H, Glory, Abe Sapien, Thanos, Superior Spiderman, Snow Angel, All New X-Men, Kieron Gillen's Uber, Joe Casey's Sex and Fashion Beast.
So I hope you're all happy. Disembodied Narratorbot X-15735 certainly is. Or at least is able to exist in a perfect state of electronic bliss. I am a dial tone, hear me hmmmmmmmmmmmmmmmmmmm….
SILENCE! is proudly sponsored by the two greatest comics shops on the planet, DAVE'S COMICS of Brighton and GOSH COMICS of London.