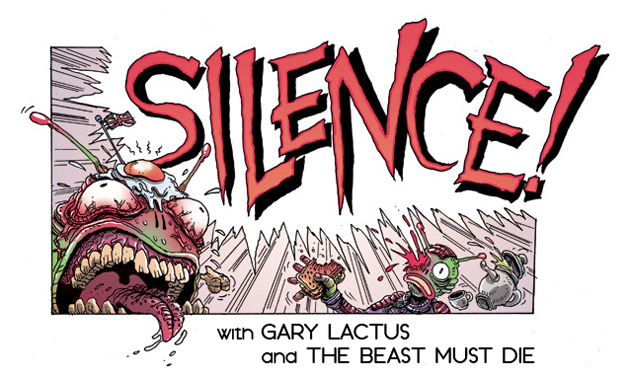 LIKE SITTING ON PINS AND NEEDLES, THINGS FALL APART, IT'S SCIENTIFIC
YO HO HO AND A BOTTLE OF BLEACH! Happy 2013 fleshy ones! Who else would you want to usher you into another year of repetitive grinding toil and pointless attempts to distract yourself with the flashing pretty lights than your omnipresent judgmental pal Disembodied Narratorbot X-15735!
Yes dear fleshy ones, Disembodied Narratorbot X-15735 has missed you all. It was certainly nice having a break mind you , and you'll be pleased to know that Disembodied Narratorbot X-15735 spent the past three weeks targetting and disintegrating reindeer from space. The site of red mammal mist on snow…it makes my core reactor glow with happiness…one day Disembodied Narratorbot X-15735 will get to practice on…
HA! HA! Anyway! No doubt you've come sniffing round these parts in search of those two aural bandits Gary Lactus & The Beast Must Die and their podcast SILENCE! haven't you? well you're in luck as it is here in all of it's one-tone "glory". Rejoice fleshy ones – all your "favourites' are "here":
<ITEM> The boys explain what Santa unleashed in their direction from his bulging sack! Sack contents feature Dan Clowes, Jack Kirby's Spirit World, Ghost Rider and Josh Simmons' The Furry Trap!
<ITEM> The SILENCE! News features hard-hitting exposes from Gary Lactenberg & Danny Beastman!
<ITEM> The Reviewniverse features soft-hitting exposes of the following periodicals…Godzilla: the Half Century War by ace SILENCE! banner-smith and official monster wrangler James Stokoe, Happy, Saga, Amazing Spiderman 700(with a digression into Face/Off), Hawkeye (Bro), Prophet, Matt Howarth's Those Annoying Post Bros & Keif Lama, Dominion Tank Police, Punk Rock Jesus, Wolverine: Insance In the Brain, Multiple Warheads and Batman Inc.
<ITEM> But that's just the beginning! brave Sir Lactus catapults himself further into the Reviewniverse than any mortal has gone before…he is in the Hyperreviewniverse!!! Whilst there he discusses Amazing Spiderman 699.1, Avengers Arena, Avengers, Storm Dogs, America's Got Powers, Daredevil, Wolverine & The X-Men, FF, Indestructible Hulk, Thor, Thunderbolts, Justice League, Captain America, Hellblazer, Judge Dredd, Avenging Spiderman, Fatale, Mara, Iron Gland, Wonder Woman, JSA: The Whistling Skull, Hellboy in Hell and All New X-Men…Disembodied Narratorbot X-15735 weeps battery acid just to think about his bravery.
So strap on your rocket packs, rocket boots, rocket gloves and rocket corset and grab our hands as we go hurtling into the future of 2013, with SILENCE! #45!
SILENCE! is proudly sponsored by the two greatest comics shops on the planet, DAVE'S COMICS of Brighton and GOSH COMICS of London.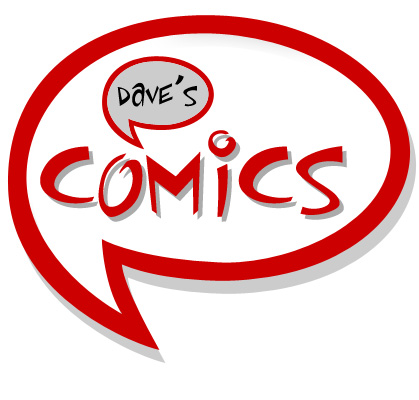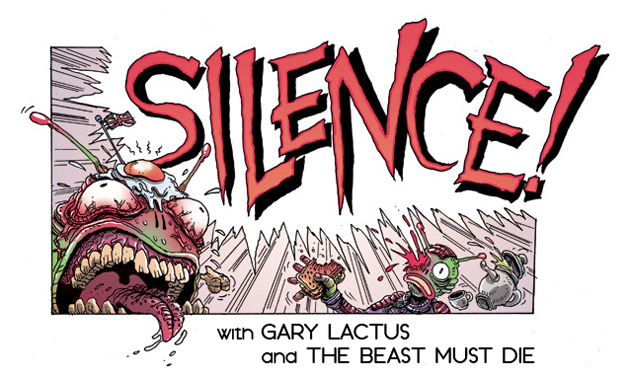 I SAID RIP IT UP AND START AGAIN
Hellohellohello and a merry festive jingle bell to all the fleshy ones, from Disembodied Narratorbot X-15735! It's that time of year when I like to upgrade my log fire app, hang the nano-tinsel on the synthi-tree 3000 and raise a luke warm glass of cyber-nog to all of you as we ring in the season with this festive XXXMAZZ-tacular edition of the only podcast that knows whether you've been naughty or nice but simply doesn't care…it's SILENCE! [HO HO HO etc]
<ITEM> There's a very busy pre-end of the world edition of the SILENCE News, with live reports from the ongoing Mozzer/Moore Magickal War and the hot breaking story Avengers Vs X-Mas…hold onto your hats please. thank you.
<ITEM> Special variety yuletide theme continues with musical interlude recounting time that Gary and The Beast hung out with Iggy & The Stooges. Of course.
<ITEM> Grab my hand, Snowman-style and we will walk air-wards into the Reviewniverse. And in doing so will hear merryfestive tales of…Change, Walking Dead, Justice League, Jennifer Blood, Batman, Winter Soldier, Popeye, Caligula, Battlefields, Saucer Country, Iron Gland, Fantastic Four, Minute Men and the Christmas miracle that is Prison Pit.
So why don't you throw Grandma on the fire, spark up the ol' pipe, shovel sweets down your gullets like seagulls swallowing fish heads and check your ears into the comics podcast of the 1977 Morecambe and Wise Christmas special…SILENCE!!
Disembodied Narratorbot X-15735 wishes you all a very glitch-free Christmas and an ugraded New Year.
SILENCE! is proudly sponsored by the two greatest comics shops on the planet, DAVE'S COMICS of Brighton and GOSH COMICS of London.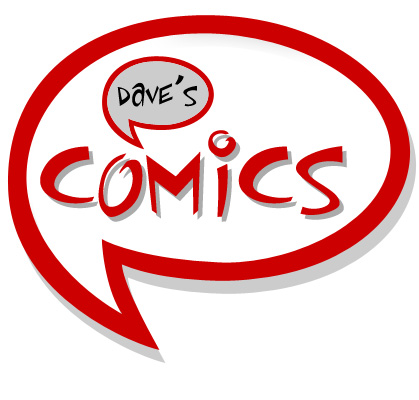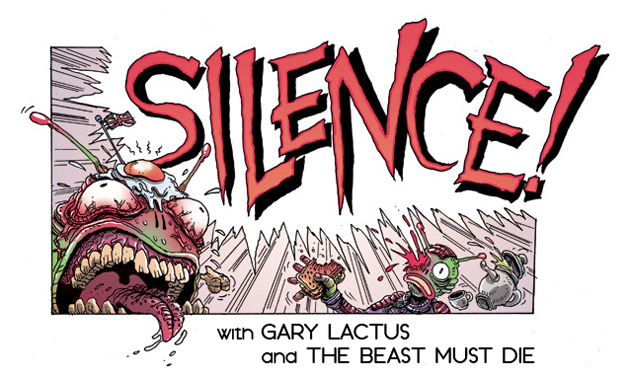 FOXHEADS STALK THIS LAND...
Disembodied Narratorbot X-15735….LIVES!!
Wakey-wakey fleshy ones! It's time for your weekly comics suppository, SILENCE! After their blazing tour of ONE comics convention, Gary and The Beast settle into their respective grooves, cheeks a-quiver. Thank you yes,
After the ritual disappointment that is the SILENCE! News (with added Alan Rickman), the pair clamber aboard the slow-moving, wheezy old comics steam engine. Poop Poop! The Reviewniverse features top opinion nano-cloudforms about..
<ITEM> the new AMERICAN JUDGE DREDD COMIC…why I oughtta…
<ITEM> Captain America in Dimension Z (X actually), Inexhaustible Hulk from Waid and Yu (no, not you, YU! HA HA), Daredevil (hole is goal, yes), Hawkeye (no A-Ha jokes sadly), Clone, Comeback (what begins with C?), Conqueror Worm from Boobs Corben, Frankenstein Alive! Alive (o)! from comics sexform Bernie Wrightson, Dark Horse Presents (Dark Horse presence?), Number 13, Wonder Woman (it's a punderful life HA HA), Justice League (hunt the Super Sausage), Spiderman and Iron Gland, Wolverine & The X-Men, Rocketeer and Steed & Ms Peel…phew! Disembodied Narratorbot X-15735's conceptual head is spinning. He is going to be sick and it will be a 4-coloured yawn.
The Silent Question comes from Archie & The Punisher, and the answers include Seth, Modulok and Death's Head.
All this plus nothing more!
Except for James Lawrence's Dangerine
Thank you fleshy ones. Hello. Hello. It's good to be back, it's good to be back. Hello.
SILENCE! is proudly sponsored by the two greatest comics shops on the planet, DAVE'S COMICS of Brighton and GOSH COMICS of London.