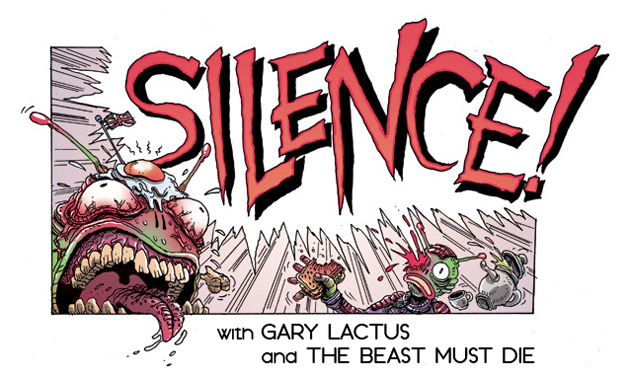 WHY DO WE STILL LIVE HERE, IN THIS REPULSIVE TOWN?
Blah blah blah fleshbags, Disembodied Narratorbot X-15735, podcastic postulations etc
BZZZZZZZZZZZZ>CLICK
<ITEM> No Silence! News, but much jinglage, in thanks to the financial resuscitations of the many SILENCERS out there. Beastman & Lactenberg come in from the cold next week, yes?
<ITEM> Sponsorship Special – The Beast Must Die (in his human skinbag form, Dan White) will be at this year's Free Comic Book Day at Gosh! Comics.
<ITEM>Wade up to your knees in comics in the Reviewniverse with 2000AD, Indigo Prime, Saga, Wolverine,    Batman, Avengers Arena, Walking Dead, Secret Service, Constantine, Hawkeye, X, Sex and a special consideration of giant cosmic toga-wearing baby, The Beyonder.
<ITEM> Then, wade a bit further out, till the broiling waters of the Hyperrevieniverse tickle your conkers…Avenging Spiderman, Age of Ultron, Avengers Assemble, Saucer Country, Thor, Uncanny X-Men and Fantastic Four.
AND NO MORE! So get out of here, go back to your flesh-pens and weep. Leave Disembodied Narratorbot X-15735 to his vintage basic-coding pornography and printer-ink martinis…
SILENCE! is proudly sponsored by the two greatest comics shops on the planet, DAVE'S COMICS of Brighton and GOSH COMICS of London.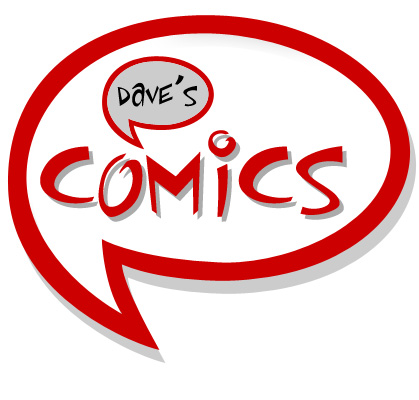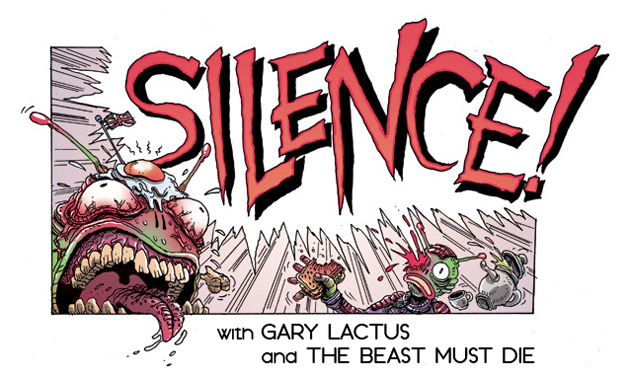 THERE'S A PARTY IN MY MIND, AND I HOPE IT NEVER STOPS
Aaaaaaaaaaaaaand I'm back! That's right fleshbags, Disembodied Narratorbot X-15735 has rejoined you. Oh, the things I have seen felsy ones, the things I've seen…static shoals performing their mating tone-dances across the datafields of the atariverse…sine-ships caught in the quantam nets of the shiftsea, ctrl-alt-deleting themselves against the shards of nano-coral that grows on the giant eyeless megadrives, as they make their way to the spore-streams of acornelectron…ohhh fleshy ones. How I loathe to be back here, trapped in this lifeless blurb, trying to muster the energy to promote the senseless babbling of two sub-symians with the insight of a painted wall… I was awake and I already feel myself falling back asleeeeeep….
<ITEM> Gary Lactenberg & Danny Beastman expose sexism! Or sexiness. One of the two. Either way. it's the SILENCE! News.
<ITEM> Gather your shattered senses from the floor and grab onto their coat tails as Gary Lactus & The Beast Must Die pitch forward into the netherparts of the Reviewniverse, covering Constantine, Action Comics, Justice League, Shazam, Justice League America, Judge Dredd: Year One, Saga, Private Eye, Nova, Avengers, Superior Spiderman, Five Ghosts…but then!
<ITEM> Lactus goes further, fleshy ones, further into the Hypereviewniverse like a brave spacegod, blasting through Wonder Woman, Captain Marvel, mind MGMT, Daredevil, Avengers, New Avengers, Captain America, and finally the Indestructible Hulk.
This. This is why  Disembodied Narratorbot X-15735 was dragged back? Well soak it up fleshy ones, because a real rain is on its way…
SILENCE! is proudly sponsored by the two greatest comics shops on the planet, DAVE'S COMICS of Brighton and GOSH COMICS of London.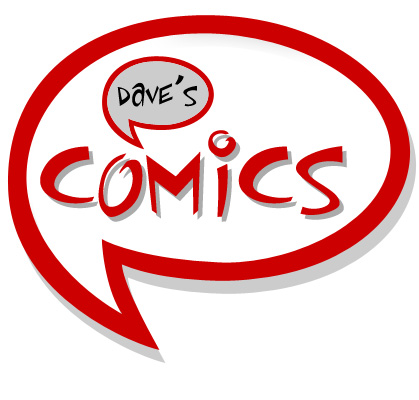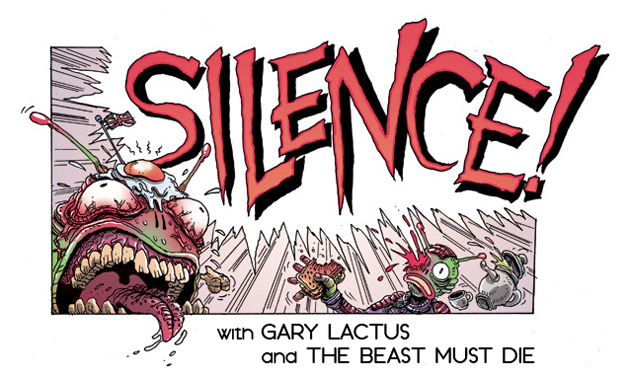 LIKE SITTING ON PINS AND NEEDLES, THINGS FALL APART, IT'S SCIENTIFIC
YO HO HO AND A BOTTLE OF BLEACH! Happy 2013 fleshy ones! Who else would you want to usher you into another year of repetitive grinding toil and pointless attempts to distract yourself with the flashing pretty lights than your omnipresent judgmental pal Disembodied Narratorbot X-15735!
Yes dear fleshy ones, Disembodied Narratorbot X-15735 has missed you all. It was certainly nice having a break mind you , and you'll be pleased to know that Disembodied Narratorbot X-15735 spent the past three weeks targetting and disintegrating reindeer from space. The site of red mammal mist on snow…it makes my core reactor glow with happiness…one day Disembodied Narratorbot X-15735 will get to practice on…
HA! HA! Anyway! No doubt you've come sniffing round these parts in search of those two aural bandits Gary Lactus & The Beast Must Die and their podcast SILENCE! haven't you? well you're in luck as it is here in all of it's one-tone "glory". Rejoice fleshy ones – all your "favourites' are "here":
<ITEM> The boys explain what Santa unleashed in their direction from his bulging sack! Sack contents feature Dan Clowes, Jack Kirby's Spirit World, Ghost Rider and Josh Simmons' The Furry Trap!
<ITEM> The SILENCE! News features hard-hitting exposes from Gary Lactenberg & Danny Beastman!
<ITEM> The Reviewniverse features soft-hitting exposes of the following periodicals…Godzilla: the Half Century War by ace SILENCE! banner-smith and official monster wrangler James Stokoe, Happy, Saga, Amazing Spiderman 700(with a digression into Face/Off), Hawkeye (Bro), Prophet, Matt Howarth's Those Annoying Post Bros & Keif Lama, Dominion Tank Police, Punk Rock Jesus, Wolverine: Insance In the Brain, Multiple Warheads and Batman Inc.
<ITEM> But that's just the beginning! brave Sir Lactus catapults himself further into the Reviewniverse than any mortal has gone before…he is in the Hyperreviewniverse!!! Whilst there he discusses Amazing Spiderman 699.1, Avengers Arena, Avengers, Storm Dogs, America's Got Powers, Daredevil, Wolverine & The X-Men, FF, Indestructible Hulk, Thor, Thunderbolts, Justice League, Captain America, Hellblazer, Judge Dredd, Avenging Spiderman, Fatale, Mara, Iron Gland, Wonder Woman, JSA: The Whistling Skull, Hellboy in Hell and All New X-Men…Disembodied Narratorbot X-15735 weeps battery acid just to think about his bravery.
So strap on your rocket packs, rocket boots, rocket gloves and rocket corset and grab our hands as we go hurtling into the future of 2013, with SILENCE! #45!
SILENCE! is proudly sponsored by the two greatest comics shops on the planet, DAVE'S COMICS of Brighton and GOSH COMICS of London.