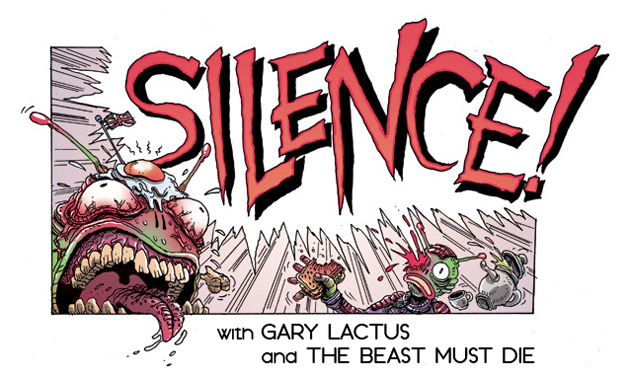 "TELL THEM ABOUT THE TWINKIE…"
"WHAT ABOUT THE TWINKIE?"
YO HO HO and a bottle of meths – it's time for SILENCE!, the rough podcast, its hour come round at last, that slouches towards Bethlehem! Yaaay! I knew that English Degree would come in useful…
The Beast and Gary Lactus bring you all the usual half-baked treats straight from the dutch oven…treats such as: The SILENCE! News (featuring insight!), and Lactus pathetically pleads with Dear Listener to look at his stupid film. Then there's full and hearty discussions of such 4-colour wonders like Fraction and A-Ha's Hawkeye no.2, Action no.0, Dial H no.0, Animal Man no.0, Dan the Unharmable, Fashion Beast (with a brief detour into McLaren's Ghosts of Oxford Street and Grant Morrison's Sick Buildings), Sweet Tooth, and Amazing Spiderman. Grand!
The SILENT Question comes from robotic miseryguts The Vision, and the answer involves Lockjaw, Aquaman and tangentially the absolutely wonderful Batman: Brave & The Bold cartoon.
Then Lactus takes us to the movies (and tries to fondle us in the back seat) and reviews DREDD! 3D!
Finally The Beast directs us to the great blog Suggested For Mature Readers, and recalls Miracleman: The Golden Age, Gaiman's finest hour. Oh and tells you to pick up the Prophet and Glory trades, quick smart!
Uptown, top ranking!