YOU CAN CRY, YOU CAN MOPE, BUT CAN YOU SWING FROM A GOOD ROPE?
Ahh yes…um, look okay everyone…stop talking please…can you…can you… sorry, can you just… look please just sit down and stop talk… um hello? HELLO? I said..I SAID.. can you please just…no look put that down and just… look will you stop talking for just one… what? yes, well just come in and sit down and try not to… excuse me, would you mind just…? Look will you be quiet for just one..what? Yes..what? Yes I AM the substitute blurb writer, why do you… look can you just put that..no, no I COULD actually be a full time blurb writer if…what? Sorry, can you..OUCH! OKAY!!! WHO THREW THAT GRAPHIC NOVEL AT MY HEAD??? You KNOW how much those fully painted numbers weigh…Okay…now just settle down. Settle…what? WHAT? What do you mean I've run out of
<ITEM> The Beast Must Die & Gary Lactus have a particularly itchy case of the sponsorshingles, with the usual nods to Dave's Comics and Gosh Comics, and an in-depth discussion of Zoos.
<ITEM> A smart tug on the winkie and we're off into the Reviewniverse, with hearty happy earthy discussions of Star Wars, Darth Vader, Princess Leia, Surface, Ms Marvel, Ragnarok, Rat God, Howard The Duck, Steve Gerber, Marvel Dinner Comics, Hellbreak, Fantastic Four, Southern Cross and much much much much (not) much more.
<ITEM> It's the brand new movie section we're calling Everything Comes Back To Rocky IV, as The Beast discusses recent filmic treats Godzilla and Edge Of Tomorrow: Live, Die, Repeat, Cruise. He also watched Cloudy With A Chance of Meatballs 2 but he's not going to tell you the Dear Listeners, about that. The Tacodile was pretty great though, right?
<ITEM> Come on, we all need a good wee and some dinner, so let's call it a night, eh? Have a good SILENCE!
Click to download SILENCE!#135
Contact us:
[email protected]
@silencepod
@frasergeesin
@thebeastmustdie
This edition of SILENCE! is proudly sponsored by the greatest comics shop on the planet, DAVE'S COMICS of Brighton. It's also sponsored the greatest comics shop on the planet GOSH! Comicsof London.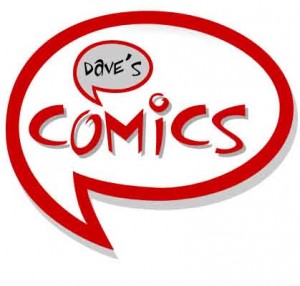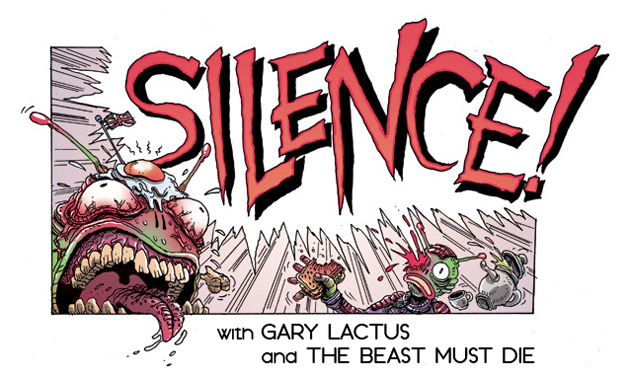 JUST REMEMBER, ALL CAPS WHEN YOU SPELL THE MAN'S NAME!
10 days and a wake up and Disembodied Narratorbot X-15735 will be  rotating back into the quadrosphere, away from this blurb, this tedious podcast, and your grim grey visages…but until then I suppose the fleshy charade must continue.
Oh and I suppose some mention should be made of the extreme generosity of the listeners in ensuring that Gary Lactus & The Beast Must Die can continue to block up the internet with their inane aural clag. The sentimentality of weeping meat knows no bounds it would appear. Well if those two red-faced blowhards even dream of upgrading to a newer model of Narratorbot…well let's just say there will be human sushi served all round.
HA HA, as if they would.
<ITEM> No SILENCE! News as Lactenberg & Beastman are still in The Bad Books of Silence. Instead enjoy some jingles in honour of our sainted benefactors. Commercial entropy here we come!!
<ITEM> The Reviewniverse reaches out it's 4-D tentacles and sucks us all in to it's endless horrors. As all of our realities merge into a 4-colour stew, the boys cover Godzilla, Batman LOTDK, The Intractible Hulk, Red She-Hulk, Aquaman, Earth 2, Dial H, Glory, Abe Sapien, Thanos, Superior Spiderman, Snow Angel, All New X-Men, Kieron Gillen's Uber, Joe Casey's Sex and Fashion Beast.
So I hope you're all happy. Disembodied Narratorbot X-15735 certainly is. Or at least is able to exist in a perfect state of electronic bliss. I am a dial tone, hear me hmmmmmmmmmmmmmmmmmmm….
SILENCE! is proudly sponsored by the two greatest comics shops on the planet, DAVE'S COMICS of Brighton and GOSH COMICS of London.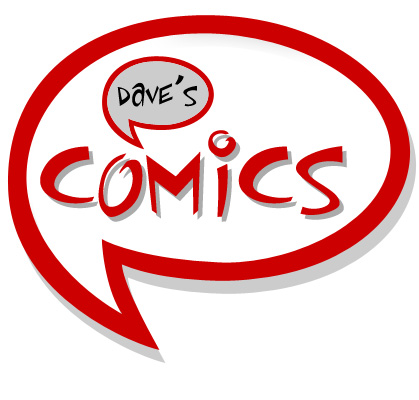 Windowpane #1, by Joe Kessler 
There's a point early on in this comic where you realise that you're not so much watching characters describe a landscape as watching the landscape try work out how to describe itself. This might seem counter-intuitive but from the end of the first story onward the pattern repeats itself – Joe Kessler's garish, pastel-hued compositions either  break down into their constituent lines after exhaustive exploration or sit there seemingly unaffected by the words and actions that have passed through them.
The best example of the latter category involves a wet-dream about a pig in a dress, whose fall through the night sky is contrasted against an unflinching cityscape with a moment-by-moment precision that does far better justice to the pithy punchline than this description:
In the former category, the Invisible Cities-derived third strip is as close to definitive as Windowpane gets.  The way it links its characters shared status as splashes of ink and colour on the page with their philosophising about the interconnected nature of reality — "…a cluster of atoms resembles a cluster of galaxies."/"Well they're both clusters" — might seem trite in isolation, but the surrounding stories make these philosophical observations feel more like a little bit of texture on a varied landscape.
All of this might  sound a bit chilly and distant, but Kessler's human figures are depicted with a deceptive sort of ease, as a series of curving lines whose relationships to each other is nevertheless very carefully observed and delineated:
Still, in keeping with Kessler's paradoxical thematic schemata it's the backgrounds that are the focus here, existing as they do on the precise point where detail blurs into abstraction.  The interaction between text and territory here has a sly kinshsip with Dylan Horrocks writing on maps and comics, and perhaps also with Kevin Huizenga's conception of the comics page as a place for exploration and discovery, but Kessler's backgrounds have a forcefulness to them that resists his characters attempts at attaching meaning as much as it encourages them.
This is tricky relationship is most clearly explored in the final two strips.  In  the penultimate entry, words shrink on the page as Kessler depicts his precarious human figures parachuting in to kindle-worthy hillscape:
Thought and language here are reduced to a form of quaint annotation, one that is far less effective at providing a guide to this hazardous landscape than the blocky symbols that line these panels.
The final story focuses on a burned lover who – uh, *SPOILERS* – tries to find solace in the freak resemblance between a man and a decapitated bull.  It plays out like a sneaky assurance that the process of muck sitting up, looking itself and trying to figure itself out isn't totally meaningless. It's also the sort of assurance that's both underlined and undermined by the fact that,  unlike any given sunset, you know this resemblance was put there to be noticed.
Click here to read about more gud comics on the site that just can't seem to quit you, no matter how many resolutions it makes!