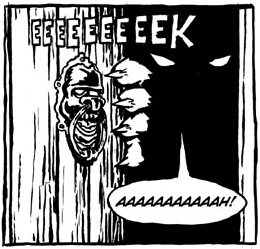 Welcome weary traveller, come in from the rain. Pull up a mildewed stack of Doug Moench's Spectre comics and rest your tired posterior. Take a sip of lukewarm tea and we can leaf through these recently acquired second hand graphic novels together, to fight off the pangs of longing till new comics day….
Share on Facebook
Just time for one last bite of the week-old bread before the supermarket chucks it in the dumpster, from where it will be cycled on to assorted tramps, birds and City sandwich-bar proprietors.
Which of those are you, dear reader?
Share on Facebook
Other comics that came out LAST week.
Share on Facebook