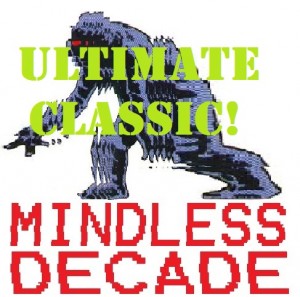 I often find myself being drawn into arguments where I know almost every example of the thing I'm defending is bad yet still feel compelled to argue for what I believe to a worthy principle.
"Text section in comic books" is one example. People can tell me that they're often bad (they are!) or that good comics writers aren't always good prose writers (they aren't!) but no matter how many pointed examples they come up with I'll still find myself determined to argue that they're closing off possibilities we can't afford to lose.
Carla Speed McNeil's Finder provides a good, if typically atypical, counterargument.  Every time I read the comics sections I find my brain racing in a million new directions, lost, determined to find answers to questions I'm struggling to formulate.  Every time I read McNeil's annotations I find myself presented with answers to a whole other set of questions, all of which are equally mysterious to me.
This shouldn't work.
It does.
Finder is two different comics every time I read it…
Share on Facebook
THE TOUGHEST, AHH… THE TOUGHEST MAN IN THE WORLD
…he will come in one of the pre-chosen forms. During the rectification of the Vuldronaii, the Traveller came as a large and moving Torb! Then, during the third reconciliation of the last of the Meketrex Supplicants they chose a new form for him… that of a Giant Sloar! many Shubs and Zulls knew what it was to be roasted in the depths of the Sloar that day I can tell you…
Oh excuse me! Sorry do come in! What? No that wasn't me talking…talking, ha ha, no I was sitting contemplating the serene beauty of this fine morning. Just me, my thoughts, and this fine morning. What? Have I got sh*t on my face?
<ITEM> Holy roly poly shlamoley! This is a very exciting episode of SILENCE! indeed. Why? Well I'll tell you – not only are The Beast Must Die and Gary Lactus here with another hot pocket of podcastin' goodness, with a gooey melt-in-the-middle of opinions but they're joined by Bobsy. But wait. That's not all. Who's this poking his cheeky face over the horizon? Why it's special guest pod-sprite, and comics mega-whopper BRANDON GRAHAM!! That's right, it's a red-hot four-way – a sandwich you know with a surprising filling. Kind of like cheese, pickle and octopus beak? But nice? It's 2 hours of awesome amazing just for you dear listenoids.
<ITEM> But that doesn't mean that we can't have some good old admin – Dave's Comics, Gosh Comics, and RX Comics from Vancouver?? Some special guest admin and then we're away!
<ITEM> The Reviewniverse is bent into ungodly shapes to accommodate the four horsemen of the apocomicalypse, so there better be some big comics talk to match it. Well we got Frank The Tank Miller and DKIII and Uncle Alan's delightful Providence. 1986 suckers! But that's not all – there's talk of Finder, Two Faces of Tomorrow, Steve The Dude Rude, Dark Knight Returns, Watchmen, Mr T, KRS One, Three Men & a Little Lady, Spiderwoman, Metropol, Battling Boy, Elektra Assassin, Lynn Varley, man-babies, Mutant Bieber Clans, Canada and oh so much more.
<ITEM> A special moral message from our guest and some of the finest singing you ever heard. And we're done. You lucky, lucky people.
click to download SILENCE!#167
PLUS
SECRET CONVERGENCE OF INFINITE PODCASTS
Contact us:
@silencepod
@frasergeesin
@thebeastmustdie
@bobsymindless
You can support us using Patreon if you like.
This edition of SILENCE! is proudly sponsored by the greatest comics shop on the planet, DAVE'S COMICS of Brighton. It's also sponsored the greatest comics shop on the planet GOSH! Comics of London.
Share on Facebook
Illogical Volume: Okay, so the idea here is that we're going to do another one of these shit-talky back and forths, this time on DC's New 52 (I hate the whole Nu52 thing, smells like team Durst), with various diversions into non-DC comics for added flavour.  I don't know, I guess I've just read a veritable CUMPKINLOAD OF COMICS in the last three-and-a-half months and I feel the need to share my thoughts on them with both you and the rest of the world. Do you feel like enabling me big man?
Botswana Beast: Yeah, the nomenclature is – it's external, it is entirely New Metal (the first music I loved, forefathers: Faith No More, whose cassette album 'Angel Dust' was the first by a single band I owned, in fucking Christmas 1991/2, I did have Now 17 before that.) It should have an ümlaut ideally, because comics are nothing if not racist and utterly without taste.
But anyway, yes, I think I have some feelings about comics, still, in my one remaining nerve, the world passes me by in numb shock, but these – well, one can express oneself. Isn't it wonderful now everyone can express themselves via this technological medium? Wunderbar.
Illogical Volume: FEELINGS ABOUT COMICS ARE THE ONLY TRUE FEELINGS! So long as we can keep that in mind, we should do just fine here…
2000AD Progs 1750 – 1763
If I was writing about 2000AD like The Beast Must Die is was doing for a while there (note to The Beast Must Die: please write about 2000AD again soon!) I'd have the slight problem of wanting to repeat myself every week – there are two strips in here that are regularly worthwhile, you know what they are (Indigo Prime and Judge Dredd) and I can't think of much to say about the other strips.  Which is just another reason why TBMD >>>>>>>>>>>>>>>>>>>> me, obviously.
I'd feel like a total dilettante trying to say anything clever about Judge Dredd, so I'll focus on Indigo Prime right now, which… well, thanks for "making" me buy the Indigo Prime trade at Kapow!, Botswana Beast, because this is so exactly WHAT I WANT that I can't believe I hadn't read it all before.
The last strip in Indigo Prime's previous incarnation, Killing Time, also happened to be the best one. It's both From Hell as written by a skin-sick sensualist and (thanks to the bulgy brilliance of Chris Weston's art) a warped precursor to The Filth, which is to say that it's pretty close to comic book perfection.  This freshly relaunched series doesn't quite have the same queasy feel to, but that's okay.  If Killing Time was the blue meat you'd pick up from a bad butcher, these two new stories have had a sort of processed meat feel to them, more like something you'd buy from the local Spar on yr lunch break and instantly regret. Only, you know, good.
Regardless of the exact flavour of meat involved, it (the old and new incarnations of Indigo Prime) is (are) one (two) of my favourites. Yes.
Plus, also, Al Ewing and Brendan McCarthy are going to be working together on a new strip called Zaucer of Zilk for 2K, so you can consider me officially THERE for the New McCarthysim, as always…
Click here for more! An early Xmas Overload awaits, now with extra added Scottish!
Share on Facebook