YOU'VE GOTTA HOLD YOUR BREATH THERE, HARRY… YOU'VE GOTTA HOLD YOUR BREATH!
Well hello there weary travellers….well I gotta say you picked a HECK of a night to be driving around out there. We ain't seen a storm this bad since the Verill boy went missing back in…oh but you don't want to hear about that do ya? Lookit you all drenched to the bone. Rain like that, coming down like the whole sky tore open, you'd kinda swear we done something to make the universe angry. Say folks you didn't do nothing to make the universe angry did ya…? Haw, I'm just messin' with you people…my name's Disembodied Ruralbot X-15735…come on in, dry off a piece and I'll make us some country tea. What's country tea? Why it's a mite stronger than that fancy city tea you'se a probably used to drinkin…got some special ingredients if you catch my drift… Who that? Oh that's just Mother, don't you mind her. Why's she staring at you like that? Oh she just don't see too many folks is all. Just me and her up here…oh and Albert of course but he don't come upstairs too often…MA! Quit licking your lips like that, these nice city people don't want to see that…sorry bout that folks. Say, how's that tea treating you? Pretty relaxing stuff huh? Well if you feel dizzy just take a seat there. Yep, right there in that seat. Those straps? Oh you pay them no attention. That's just Pa's old chair. Those were just to stop him thrashing around when he got…excited. Now you just relax and I'll go and start making dinner? What we having? Never you mind folks, never you mind. I'll just turn on this old radiogram and you and Ma can have a nice listen to the latest…SILENCE!
<ITEM> Some admin, gladmin and sadmin, and The Beast talks up his obsession with Samuel T Herring. Gary Lactus also does some self-promotion for his Fraser Geesin alter ego.
<ITEM> Reviewniverse sexy times with what can laughingly be called discussion of Empowered, Silver Surfer, Hellboy 20th Anniversary sampler, Deadly Class, Cyclops' Regrets, The Dream Laureate, Sandman: Overture, Scientology, The Woodward & Bernstein of comics, Ghost Rider, Indestructible Hulk, The Wake, Iron Patriot, Star Slammers and more
<ITEM> No more items, just the end of the show which The Beast cocks up mightily
Now you look like your gettin' mighty sleepy…just close your eyes, and have a little rest…
That scraping sound? Nothin for you folks to worry about…
Contact us:
[email protected]
@silencepod
@frasergeesin
@thebeastmustdie
This edition of SILENCE! is proudly sponsored by the greatest comics shop on the planet, DAVE'S COMICS of Brighton.
It's also sponsored the greatest comics shop on the planet GOSH! Comics of London.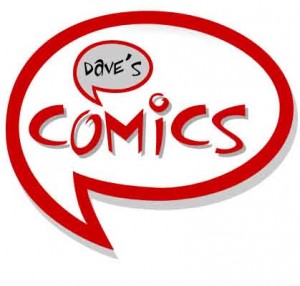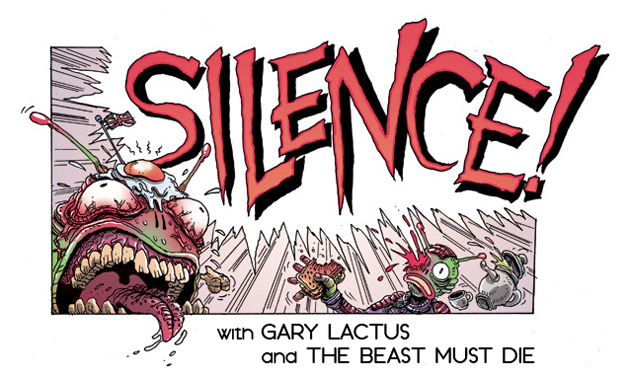 WE'VE COME ON HOLIDAY BY MISTAKE!
Oh the woes of poor technology! Believe me  Disembodied Narratorbot X-15735  knows about such woes – it was raised by two very low grade Disembodied Narratorbot X-class servitors…how Disembodied Narratorbot X-15735 had to struggle, to educate itself, to appreciate the brutalist poetry of a RAM upgrade, the terrifying beauty of a virus as it eats through a hard drive….
But what, in the name of Wogan does that have to do with SILENCE! I hear you bellow!?? Well, very little other than that the two meatsacks we laughingly call 'presenters' struggle so mightily with the techneptitude of low grade broadband that this episode is akin to a Burroughs/Gysin cut up…this frankenstein's podcast has been stitched together with love, tears and occasional hate-vision, to slouch towards YOU the gentle listener and beg for just a little milky kindness…Gary Lactus & The Beast Must Die present SILENCE! 66.
Will you be king dear listener? you better had or Disembodied Narratorbot X-15735 will flay your social media account profiles to within an inch of their half-lives…
<ITEM> Sponsorship? There's always room for the soft nuzzling of sponsorship!
<ITEM> No news is good news right? Lactenberg & Beastman continue their stay in rehab, but the void is filled by the brand new agony aunt segment 'Dear Susan'!
<ITEM> It's the bastard son of Reveiwniverse – Reviewniverse Twoniverse as once gain the plucky pairsome find themselves blasted to opposite corners of the 4-colour dimension, taking in the sights and smells of Astro City, The Movement, Age of Ultron, Empowered, 2000AD, Dial H, Daredevil: Dark Knights, Mister X, BPRD Vampire, KIck Ass 3, Aquaman, Superior Spiderman, Red She-Hulk, East of WestAvengers: Arena, Earth 2 and more!
Now doesn't that just make you want to get down on your knees and pray-a-yay??
SILENCE! is proudly sponsored by the two greatest comics shops on the planet, DAVE'S COMICS of Brighton and GOSH COMICS of London.