A KNIFE, A FORK, A BOTTLE AND A CORK, THAT'S THE WAY WE RUN NEW YORK
Lette me telle you a storye…let me weave you a dream
Come then gentlefolk, down the hitherymost further-far path into the faraway mistymost woods at the bottom of the garden. You'll have to be quiet as the quietest church mouse and nimble as the most hop-skippety-jumping frog. Now close your eyes… do you hear those far away tinkling bells? Those bells that sound like tears on a drisly Wednesday evening? Those are the Belles of Gaiman's Folly, tolling. Down the furtherymost farthest dingly lane in Gaimain's Folly there's a Magick Cheese Shoppe. On a dusty, musty old shelf in the back of the Cheese Shoppe, they keep all the faraway most forgottenest things…Christmas is kept their 364 days a year, as are childhood dreams and the first sweet taste of love. Would you like to go there with me gentle stranger? Would you?
Now do you see that doorway opening just out of the corner of your eye? Grab my hand and make a wish…wish for something sad and sweet and we will twirl you and I away from ths sadde world of grown ups and jobs and cares, and spin, spin merrily into the magickal realm of Gaiman's Folly…come on let's spin, and wish and spin and wishandspinadnwishwishwishspin…..
Wait, what the f*ck is that? A Tesco Metro? This isn't Gaiman's Folly, it's Watford.
Oh well, I guess we might as well grab a King Size Snickers and a Chocolate Yazoo and settle down in this carpark and listen to the latest SILENCE!
<ITEM> Dancing in the disco, bumper to bumper, wait a minute where's me jumper? HEY! BOBSY's wearing it! That's right Dear Listeners it's one of those episodes where the intellectron levels of the podcast skyrocket, with dunderheaded Gary Lactus and dunderpanted The Beast Must Die scrabbling to catch up, dragging their proverbial knuckles through the proverbial dust…
<ITEM> Sponsorshenanigans, Breakdown Press' Safari, Gary Lactus' Brighton Fringe Show and the pure love of Point Break. Do you want to know more..?
<ITEM> And they're off! Into the Reviewniverse and none of them fall at the first hurdle! Straight in with Nameless, Dark Star, Kaijumax, Surface, Albie Briggs, Event Horizon, Convergence, Batman & Robin, New Statesmen, God Hates Astronauts, Transformers Vs GI Joe, Jim Steranko, 2000AD, Descender, Disney Infinity, Jupiter's Circle, Southern Bastards, Avengers Ultron, Batman Eternal, Copra and Dragon's Claws.
<BONUS ITEM> Bobsy and The Beast review a comic they haven't read and hasn't been published yet…Black Widow! We'll call this segment The Art of Reading Without Reading.
"And that was all" said the Dream Weavre.
"Goodnight comics"
"Goodnight Dear Listeners"
"Goodnight SILENCE!"
Goodnight.
Click to download SILENCE!#138
Contact us:
[email protected]
@silencepod
@frasergeesin
@thebeastmustdie
This edition of SILENCE! is proudly sponsored by the greatest comics shop on the planet, DAVE'S COMICS of Brighton. It's also sponsored the greatest comics shop on the planet GOSH! Comicsof London.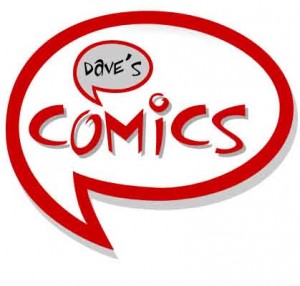 The Marvel UK Transformers comic occupied a special part of my young heart for a fair while back in the 80's (I often think all boys of a certain era were actually built with a small Transformers shaped compartment in their heart) The weekly adventures of the Robots in Disguise came somewhere between Battle Action Force (UK GI Joe to you colonials) and 2000ad. What could have been a shonky toy cash in title had a unique flavour all of it's own, mainly thanks to the stalwart work done by premier Trans-scriber Simon Furman. Under his guidance the Transformers mythos grew into something rich and strange. And violent. Very very violent… Alongside such Brit comics luminaries such as John Wagner and Pat Mills, Furman was one of the most prolific writers of the 80's carving out a niche writing for Marvel UK, taking the Transformers mythos and running with it. Once the animated movie was released the strip really hit it's stride, with the addition of Galvatron, Cyclonus and Scourge and the rest of the 2006 mob. Not to mention a certain freelance peace-keeping agent…yes?
Along with Transformers, Furman also created the wonderful robot bounty hunter Death's Head, as well as the super violent futuristic sports mercenaries Dragon's Claws. For a while Marvel UK became a hotbed of fun new comics that provided a well of young British comics talent the chance to cut loose.
Soon after Furman started working in American comics for Marvel, IDW, Dreamwave and Dynamite. He has also worked in animation, computer games and continues to write Transformers to this day. An extremely personable chap, with an extensive knowledge of exploitation movies, Simon kindly agreed to do a Mindless interview. Read on…yes?