I might have come away from the Thought Bubble comics convention with a terrible hangover and an overwhelming desire to have a proper rummage through the back issue bins, but I can't say that I came back short of good zines, great comics and better memories.
Here are five of the most exciting books I picked up last weekend…
1. Jonathan Chandler – Another Blue World (Breakdown Press, 2015)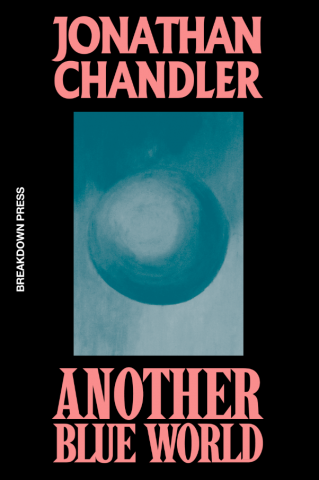 At last Saturday's SILENCE! x Breakdown Press interview panel, Jonathan Chandler was discussed as an artist who had staked out territory similar to that which Brian Chippendale had occupied but who had got there before it became a trendy holiday destination for art house cartoonists.
I'm not familiar enough with the man's work to debate these claims, but reading Another Blue World what struck me was how important Chandler's elusive sense of space is to communicating this particular set of hostile environments:
It's not so much that Chandler is limiting what the reader can see to a few tufts of grass or a short stretch of water around his characters that makes his work stand out, more that he seemingly feels no pressure to fill up blank space on the page.
In a Brian Chippendale comic we might find ourselves feeling overwhelmed by the amount of detail, struggling to distinguish signal from noise whether we're faced with the tiny cramped panels of Maggots or the wider canvases of If'n Oof or Ninja. In Prison Pit we are confronted blocky horror after blocky horror, but we know that this grim escalation will follow proceed through the sort of absurd escalations that are Johnny Ryan's speciality.
Reading Chandler's work, meanwhile, we are confronted with an eerie silence. All around us, we find unreadable white space, all of it primed with danger. Forms approach, assaults are perpetrated, sex is weaponised, but we can never be sure whether things are going to get worse or just sort of hang there:
I might crave for something beyond this harsh replication of animalistic imperatives, but there's no denying that Another Blue World makes them painfully vivid.
Speaking of moving beyond, here's Lando, back with another bleak, arid and yet undeniably stylish science fiction story!
I DON'T WANNA BE BURIED, IN A PET SEMATARY
<ITEM> Lazy Disembodied Narratorbot X-15735 has gone astray – does anyone miss it? Be careful as it could be lurking in your inbox bumping uglies with a particularly virulent phishing scam. In the meantime Gary Lactus & The Beast Must Die bring you the yawning chasm of comics kritizism that is…SILENCE!
<ITEM> Sponsor-Shimmy-shimmy-YA!, there's Jingles, Confusion of the Matts, Quick Strips, Myriad, Cartoon County and a whole sweaty fistful more…
<ITEM> What's that light in them thar hills? Why that's the Reviewniverse welcoming foolish prospectors into it's gaping maw…lucky youse got theboys to light the way…they be talkin' Space Horse Redux, Wild's End, Annihilator, Dave McKean photocopying, LA apocalypse narrative, Ms Marvel, Swamp Thing, Justice League Unlimited, Future's End, Prophet: Strikefile, Terminal Hero, Death of Wolverine, Dark Ages, MPH, Copperhead, Captain Victory, Caliban, Avengers, the general bizarre state of DC Comics and a whole dogpile more…
<ITEM> I CAN SEE THE OTHER SIDE! There's just time Silence (Because My Mouth Is Full Of Delicious Food), Darren Cullen News, Roberty Bobbity's Spacehorse Riders and not a jot more.
NOW GIT.
Click to download SILENCE!#114
Contact us:
[email protected]
@silencepod
@frasergeesin
@thebeastmustdie
This edition of SILENCE! is proudly sponsored by the greatest comics shop on the planet, DAVE'S COMICS of Brighton.
It's also sponsored the greatest comics shop on the planet GOSH! Comics of London.