Before we get going with this, a quick question — I've been thinking of releasing this series of posts, when finished (some time next year), as a book. Would anyone actually buy and read such a thing, or is it a bad idea?
I'm asking now, because here is where we head into a totally different realm of Doctor Who. I've done sixteen of these posts so far, and there are thirty-three after this. But fourteen of the sixteen previous ones have been about TV shows, with only two (Dr Who And The Daleks and Doctor Who And The Cave Monsters) dealing with non-TV stories. Of the thirty-four stories from 1979 to 2012 I'm dealing with, only fourteen of those essays will be talking about stuff that was actually on TV in those years. Four of them won't even be about Doctor Who.
Because much of the 23,717 words I've done in this series so far has been setup. It's only now, as we get to the close of the 1970s, that I can really start talking about what I want to talk to. From now on, these essays will be getting much longer, and much less in the "this happened, then this happened" vein. I have things to say. You have been warned…
Everything about Doctor Who changed in 1979, because Doctor Who Weekly started.
Share on Facebook
You can now subscribe from the itunes store. Search the podcasts section for "mindlessones" then you can subscribe, rate and review!!! Then promptly cancel as why would you want anything to do with this guff?
GET OUT OF THE ROAD YOU LITTLE FOOLS!
IN TODAY'S EAR-SCALDING INSTALLMENT: The Beast finds his life has taken on lashings of fully painted Euro-sauce, while Lactus drags his cosmic chassis from the sofa to the table!!! The Beast debuts his paean to internet fuckwittery 'Steve Dave is Online'. SILENCE! News comes and goes like a ship in the night, but not before the Greatest Jingle of All Time makes an appearance.
Finally the pusillanimous pairsome get onto the important business of comics. They discuss America's Got Powers from top British TV man, and all round alpha-nerd Jonathan Ross, SAGA no.2 from BKV and Fiona Staples. Lactus talks about Avengers Assemble and Avenging Spiderman and Avenging Avenginators vs X-Avengers (one of those is a fake, eagle-eyes!). Mark Millar and Dave 'The Rave' Gibbons' new spy tale the Secret Service is chewed and digested; Frankenstein Agent of SHADE is a thing, Casey & Fox's Haunt is too. Saucer County and the Shade – these are the things that little boys are made of… Lactus has a less yellow experience with Fantastic Four and then the Beast tackles the baffling but kinda brilliant Glamourpuss from Dave Sim in You Should Have Known Better.
All this and the second coming of Tupac Shakur? Surely not (don't call me Shirley) I didn't I said 'surely' (Oh. my mistake) That's okay Shirley.
Don't forget to click below for the SILENCE! gallery…
Read the rest of this entry »
Share on Facebook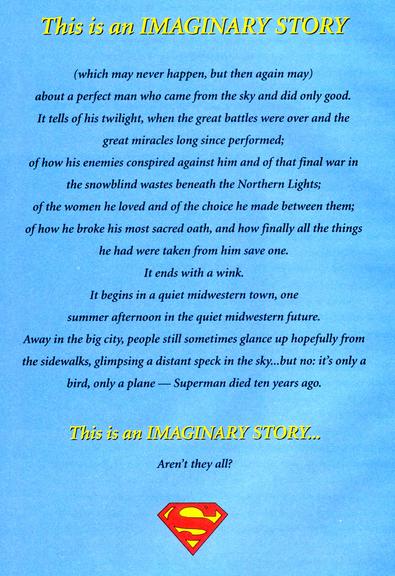 It's unsurprising that the editors decided to pull the text above out of it's original introductory caption box and give it's own page in the anniversary edition of Whatever Happened to the Man of Tomorrow, transforming it into a full blown preamble.
This is what Wikipedia has to say about the closing sentence, Alan's Moore's last word on and celebration of Superman:
"This is an Imaginary Story… Aren't they all?" The legend is a triple entendre:
It could be interpreted that the story is non-canonical.
It could be interpreted that the story is canonical, since all comic books are "imaginary stories", so it is as valid as any "official" Superman comic
It could be interpreted that the story is canonical, but for this incarnation of Superman, as the upcoming John Byrne reboot would render the earlier series as "imaginary".[citation needed]
It could be interpreted that that the story is the end of the Earth-One Superman had the Crisis on Infinite Earths never happened.
Isn't that a quadruple entendre? Whatever. There's something missing from that list. It's what gives the line it's awesome fuck yeahness, but as it doesn't speak directly to comics it doesn't surprise me that it often goes overlooked. Yes, Moore was quite possibly concerned that the Superman stories of his youth had just been relegated to the bin of history by Crisis on the Infinite Earths, yes he could be railing against the strictures of canon, but personally I've always read that line as a celebration, not just of a certain view of Superman or a certain incarnation of Superman, but of the imagination full stop.
After all, isn't Superman, the guy who can do anything, the superhero who best encapsulates all that's good and beautiful about the infinite possibilities of the imagination?
It's unlikely that the Alan Moore of the mid-eighties had quite such well-formed views on the subject of meaning and story as he does today – to the best of my knowledge he didn't talk much about Idea Space in interviews back then – but to suggest that he put great stock in fiction doesn't strike me as much of stretch, in fact I see the line above as evidence that his thoughts were heading in the direction that would ultimately bring us From Hell and Promethea.
When Moore writes "aren't they all" he is putting Superman stories in the same broad category as the Bible, Noddy, personal historical narratives, and the mythology of predatory paedophiles, which isn't to say that he's explicitly arguing that all stories are of equal importance, just that stories have the potential to be very powerful indeed, and that, hopefully, this one is amongst the best. This point is reinforced by the juxtaposition of the legend with the opening splash page featuring a memorial statue of Superman.
Memorial statues carry with them connotations of timelessness, of permanence, of stories that cannot and should not be forgotten.
Share on Facebook