YOU'RE JUST TOO TOO OBSCURE FOR ME, YOU DON'T REALLY GET THROUGH TO ME
OVER HERE!  MAN ON!  IN THE BOX!  CROSS IT  ONTO MY HEAD MY OLD SUNSHINE! WHAT WAS THAT?!  WHERE ARE YOUR SPECS, REF?!
Ah, Footblurb.  The beautiful game.
<ITEM>WELL, THIS WAS A MASSIVE PAIN IN THE ARSE TO EDIT!
<ITEM>Having said that, it was a delight for The Beast Must Die and Gary Lactus to welcome Dan Cox and John Riordon for a reasonably informal wag of chins.
<ITEM>But it's not entirely informal, as Danny and Johnny, the Hitsville Brothers tell us tales of their experiences of running the Hitsville UK Kickstarter.  
<ITEM>Inevitably, everything falls apart as the SILENCE!#295 experience becomes one of listening in to the rambling chat of the four men on the table next to yours.  What kind of men are these?  What drives them?  What interests them?  Well, in short:  Jeff Bezos, their children's relationships with super heroes, cosplay families, their dream Strontium Dog TV show and the music documentaries King Rocker, The Chills: The Triumph And Tragedy Of Martin Phillips and the Tina Turner doc, Tina.  Oh, and Timmy Capello.
<ITEM>Anyone read any comics?  Well sort of.  There's talk of Danny Hitsville's Chris Claremont Completion Crusade, Paul Jon Milne's Grave Horticulture, the forthcoming Pocket Chiller Speckle and Ash, Gareth Brookes' The Dancing Plague, Gareth Hopkins' Ghosts In Things, LDN by Ramzee, Jim Woodring's Jabba The Hutt and Thriller.
<ITEM>Finally there's some reckymends, namely List Off, Three Bean Salad, The Office US, Laser Fart and, (as usual) Chart Music.
<ITEM> In long:
@frasergeesin
@thebeastmustdie
You can support us using 
Patreon
 if you like.
This edition of SILENCE! is proudly sponsored by the greatest comics shop on the planet, DAVE'S COMICS of Brighton. It's also sponsored the greatest comics shop on the planet GOSH! Comics of London.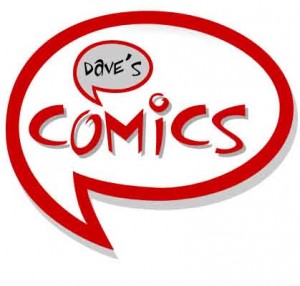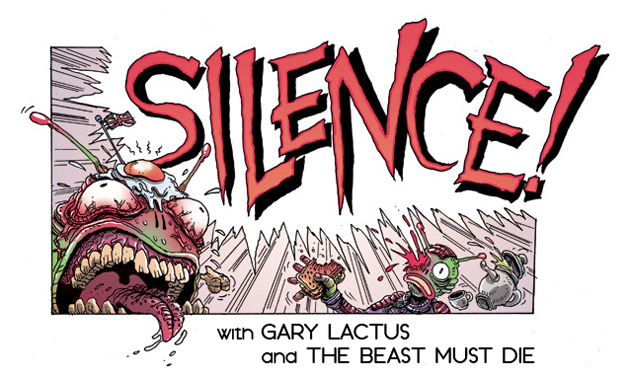 WHEN I GET HOME FROM SCHOOL EACH DAY, I FEEL MY TIME SHOULD BE MY OWN…
Listen. I'm celebrity guest host Jonathan Cohen from TV's Music Time. Gary Lactus and The Beast Must Die have asked me to add my special brand of gently sensible fun education to this very special SILENCE! Thought Bubble 2012 Special. Listen. Gary and The Beast went to Leeds with a bag full of dreams and sat at a table for two days trying to sell those dreams. Along the way they met a host of exciting folk like Al Ewing and Keiron Gillen. They talked about the things they noticed about the table, on the table, behind the table, underneath the table and beyond the table.
These things include Cosplayers, Deadline, Crisis, Fantastic Four, Walking Dead, Roller Girls, Breakfast, Dinner and John Wagner doing star jumps.
listen.
SILENCE! is proudly sponsored by the two greatest comics shops on the planet, DAVE'S COMICS of Brighton and GOSH COMICS of London.