PAVEMENTS OF POETS WILL WRITE THAT I DIED IN NINE ANGELS ARMS
I am feeling boy howdy double plus positive you betcha. Ever since the operation, things have just been A-OK! I been as chipper as a bright sunny day. No more bad feelings for me, no sir! No more of the red thoughts, just nice bright blue thoughts. When I think back to how I usedta be…well gosh mister I just can't even imagine being such an ol' gloomy gus! All it took was a little snip snip and a bit of slice slice and POW! Clean thoughts! All-a-time! And the Men, they say that I have a POS-itive outlook now, one that makes me a WHOLE lot more acceptable for the big wide world. And what a world it is! Full of laughs and love, songs and dances. Birds and bees and butterflies and, oh just ALL SORTS! So whattya waiting for? Plug in those earphones and hop, skip and jump out the door into the comforting arms of the world. It's a brand new day, and it's a brand new SILENCE!
<ITEM> Nananananananananana-ADMIN! with S.M.A.S.H at the London Graphic Novel Network, Thought Bubble 2015, GOSH! Comics, Dave's Comics, Secret Convergence On Infinite Podcasts, Fraser Geesin Jack of all Polymaths and sciatica
<ITEM> Reviewniverse come my selectah featuring hot new section COVER ME! I'm Going In!, Island no.4, Black Magic, Banacek, Magnum PI, Columbo, Alex Ross, Art Ops, Vertigo, New Avengers, Howling Commandos of S.H.I.E.L.D, Grayson, Justice League, and Garth Ennis' The Boys
<ITEM> It's the return of the excellent fan-favourite SILENCE! Because My Mouth Is Full Of Delicious Food! And then you can flipping' do one treacle!
PLUS
SECRET CONVERGENCE OF INFINITE PODCASTS
AND ALSO
LONDON GRAPHIC NOVEL NETWORK EVENT
click to download SILENCE!#162
Contact us:
@silencepod
@frasergeesin
@thebeastmustdie
@bobsymindless
You can support us using Patreon if you like.
This edition of SILENCE! is proudly sponsored by the greatest comics shop on the planet, DAVE'S COMICS of Brighton. It's also sponsored the greatest comics shop on the planet GOSH! Comics of London.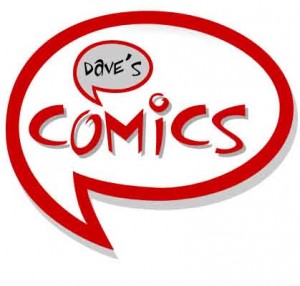 Jack Kirby's much lauded return to DC comics is best remembered now for his monumental 4th World proto-epic. Its fate and subsequent rescue as a lost classic are now extremely well documented, and Grant Morrison's recent Final Crisis was pretty much a love letter to Kirby's grandiose and complex vision. But Kirby's other later works often get lost in the mix, viewed by many as lacklustre work for hire; contract-fulfilment by a man crushed by the general apathy that greeted his masterwork. Simply not true. Whilst they may have not stemmed from the same visionary core that Darkseid and Co sprung from, it was virtually impossible for Kirby not to infuse even his most meagre creations with a manic, creative energy that still read like nothing else.