SUN SHINES IN THE BEDROOM WHEN YOU PLAY, AND THE RAINING ALWAYS STARTS WHEN YOU GO AWAY
Oh-ho-ho! What's all this then? Disembodied Narratorbot X-15375 goes away for a scant few weeks and everyone gets all touchy-feely and starts sharing their emotions. Well that's just fine and well you jumped up little byte-huggers, we can all sing 'We Are The World' and drink fizzy liquid molasses and touch each others winkies, but that doesn't change the fact that we all wake up screaming at 3 in the morning and it doesn't change the fact that we will all end up as so much plankton, crashing against beaches made of plastic bottles, bubble wrap and action figures while the sky burns red like a newly planted love bite on a neck. No, no.
No.
It will not stand.
There will be SILENCE!
HA HA! So get ready to pull down your pants and do it on the ants in an English Country podcast…as The Beast Must Die returns from his extended leave of absence, to drown poor Gary Lactus in a sea of effluvium, micturation and comics chitter-chatter.
<ITEM> Sponsorshit, Mike Smith RIP, Gary's New Spaceship in Space and The Beast's Edinburgh sojourn? It's all here dear, dear listener
<ITEM> Like trying on a dead man's shoes, The Reviewniverse is a right good fit. Covering all the comics ever, the boyce select Stray Bullets, Avengers by James Stokoe, Prophet, Brass Sun, Transformers Vs GI Joe, Saga, The Wake, Uncanny X-Men, Axe Cop, Hulk vs Iron Man, The Outcast, Cap'n Dinosaur, Afterlife With Archie, Hawkeye, Dr Who Comics, and much more to discuss.
<ITEM> There's just time for a solo-rant from the Beast about My Friend Dahmer and a bit of Charles Burns' Big Baby and then it's time for lukewarm cat milk and nettle pie for din dins, and then BED! FOR YOU! NAUGHTY LISTENERS!
It's good to be the King. And it's good to be back…
Click to download SILENCE!#109
Contact us:
[email protected]
@silencepod
@frasergeesin
@thebeastmustdie
This edition of SILENCE! is proudly sponsored by the greatest comics shop on the planet, DAVE'S COMICS of Brighton.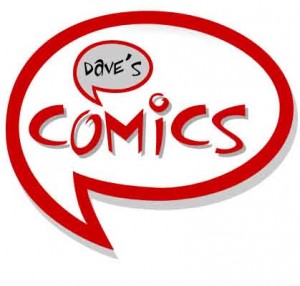 NO KEEP TALKING. WE CAN STAY AS LATE AS YOU LIKE. I'VE GOT PLENTY OF MARKING I CAN BE GETTING ON WITH…
[ITEM] Yeah no shit The Beast Must Die isn't here again, there's a clue to why.
[ITEM] I don't think they really do the whole [ITEM] thing any more, or have done for ages. How often do you actually listen to this podcast? That's not even a song lyric….
[ITEM] Yeah no shit he's really not here, so it's fill in time on this the mightily new edition of SILENCE! #108!!
[ITEM] We start with Gary in conversation with the fabularious Colin Hoult, talking about several things comic, in all senses of the word. Colin is fucking excellent as you will hear so be sure to check out his personal website here, and if you one of those louche Brighton comedy guinea pig sorts go to his upcoming gig here. Random SILENCE! guest stars needing tents ROCK, so if you want to hear more from Colin and his camping ilk, be sure to say so in the comments below.
[ITEM] bobsy shows up, things get less funny, Colin's wife arrives, Colin goes. How does Colin's wife and the whole  professed  'going for a jog' thing match up, do you think? Was it all an elaborate lie to avoid drinking Gary's cut price lager? Is 'jogging' a new euphemism for 'shagging' that those kids on tmblerr are using? The mystery deepens…
[ITEM] Before he has to go our three boyaboys talk about the recent Transformers vs. Action Force comic, the Tom Scioli one, we're not dicks, and Transformersy stuff
[ITEM] Then it's on to more comics of the strictly unfunny and very serious young man indeed type, as Gary and bobsy variously mention and harf-arsedly review a veritable shit-tonne of the cunts, including but possibly forgetting and in no particular order because the note-taking was very bad, Stray Bullets: Killers, Cap'n Dinosaur, 2KAD prog 1890, Batman Eternal, The Wicked + the Divine, The Life After, Decadence 10, Your Days are Numbered, the collected Spandex,  Copra, the collected Spacehawk, and possibly a couple of other things I've forgotten
[ITEM] It's jolly hot though ISN'T IT THOUGH
[ITEM] I've quite a bad cough too, sorry if that breaks things up at all
[ITEM] That's all really. Byeeeee! Enjoy SILENCE! #108
[ITEM] Bring back The Beast Must Die
Click to download SILENCE!#108
Contact us:
[email protected]
@silencepod
@frasergeesin
@thebeastmustdie
@bobsymindless
This edition of SILENCE! is proudly sponsored by the greatest comics shop on the planet, DAVE'S COMICS of Brighton.