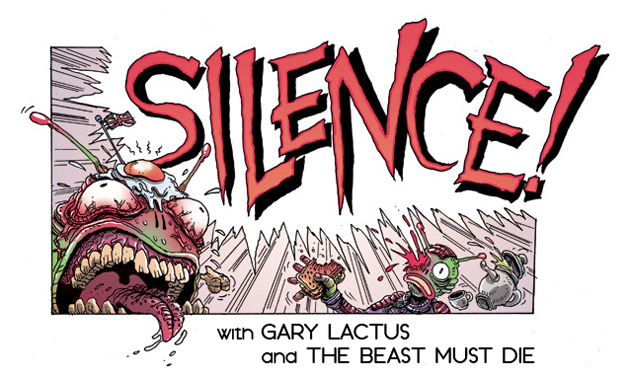 JUST REMEMBER, ALL CAPS WHEN YOU SPELL THE MAN'S NAME!
10 days and a wake up and Disembodied Narratorbot X-15735 will be  rotating back into the quadrosphere, away from this blurb, this tedious podcast, and your grim grey visages…but until then I suppose the fleshy charade must continue.
Oh and I suppose some mention should be made of the extreme generosity of the listeners in ensuring that Gary Lactus & The Beast Must Die can continue to block up the internet with their inane aural clag. The sentimentality of weeping meat knows no bounds it would appear. Well if those two red-faced blowhards even dream of upgrading to a newer model of Narratorbot…well let's just say there will be human sushi served all round.
HA HA, as if they would.
<ITEM> No SILENCE! News as Lactenberg & Beastman are still in The Bad Books of Silence. Instead enjoy some jingles in honour of our sainted benefactors. Commercial entropy here we come!!
<ITEM> The Reviewniverse reaches out it's 4-D tentacles and sucks us all in to it's endless horrors. As all of our realities merge into a 4-colour stew, the boys cover Godzilla, Batman LOTDK, The Intractible Hulk, Red She-Hulk, Aquaman, Earth 2, Dial H, Glory, Abe Sapien, Thanos, Superior Spiderman, Snow Angel, All New X-Men, Kieron Gillen's Uber, Joe Casey's Sex and Fashion Beast.
So I hope you're all happy. Disembodied Narratorbot X-15735 certainly is. Or at least is able to exist in a perfect state of electronic bliss. I am a dial tone, hear me hmmmmmmmmmmmmmmmmmmm….
SILENCE! is proudly sponsored by the two greatest comics shops on the planet, DAVE'S COMICS of Brighton and GOSH COMICS of London.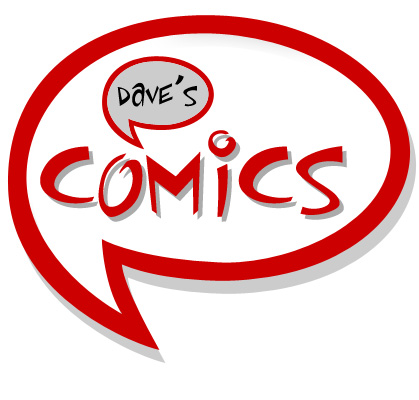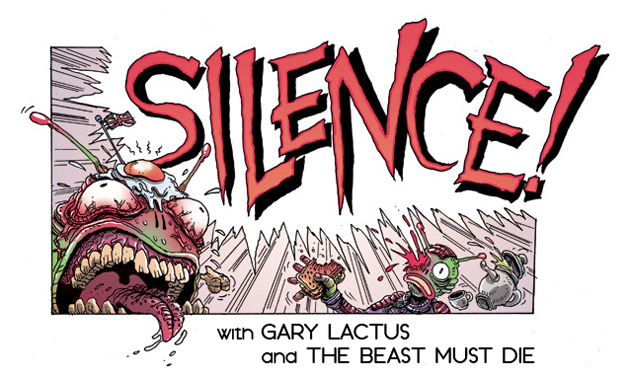 CAN'T BELIEVE I USED TO BE MR STEVE AUSTIN ON THE MIC, SIX MILLION WAYS I USED TO RUN IT
Here I come to save the day, Disembodied Narratorbot X-15735 is on his way! No, no, not really I was always here. It's you that went away fleshy ones. I was here and I always will be. Until the sun eats itself.
In this pre-pre festive edition of  SILENCE! (the podcast that comes to you in the form of a nano-swarm perched on the buttocks of a fly), The Beast and Lactus fire a cannonfull of comics shot across your bows.
But not before…
<ITEM> The SILENCE News has a live report from Danny Beastman, covering the terrifying Moore/Morrison Magickal War that threatens to engulf ALL the realities.
<ITEM> Voyage Into The Reviewniverse covers Evan Dorkin's House of Fun (with a wee Pirate Corp$ diversion), Hellboy, Avengers, Hawkeye, Thunderbolts, Action Comics, Batman LOTDK, FURY: My War Gone By, Fashion Beast, Dial H, Amazing Spiderman, Avenging Spiderman, All New X-Men, Iron Man (gland!), and Black Acre.
<ITEM> Lactus takes on Jason's Challenge in My Little Pony: Friendship Is Magic.
<ITEM> The Silent Question comes from a Green Lantern…again.
Add in an appreciation from The Beast of Man-Thing and Steve Gerber in general, and you have a rootin' tootin' high falutin' edition of SILENCE! Disembodied Narratorbot X-15735 wishes you a fond farewell, blows you a salty kiss and will see you on the flipside.
SILENCE! is proudly sponsored by the two greatest comics shops on the planet, DAVE'S COMICS of Brighton and GOSH COMICS of London.