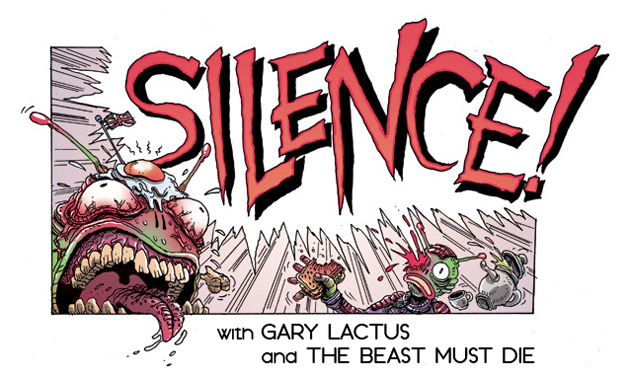 I SAW MY BABY, SHE WAS TURNING BLUE
A SILENCE RIFT! SILENCE SCHISM! CRISIS ON INFINITE SILENCES! SECRET SILENCE WARS! THE SUMMER CROSSOVER EVENT THAT WILL LEAVE NOTHING THE SAME FOREVER CHANGED EXCITEMENT FOR ALL TIME…
Disembodied Narratorbot X-15735 is sad to announce that this edition of SILENCE! comes broadcast from separate sides of the  quadraverse, as Gary Lactus and the Beast Must Die present The Silence Of Two Worlds…(in honour off this ridiculous non-event Disembodied Narratorbot X-15735  will split into two also, become beautiful binary star blazing in the infinite dataverse)
Disembodied Narratorbot X-15735  v.1 here am very happy to present: <ITEM> Gary Lactus, broadcasting from Mars, fires first, spraying the comicsphere with his sticky opinions and muscular baritone. A Welsh choir somewhere is missing an Angel, but the internet gained another blowhard…
<ITEM> Pushing his size 12 brogues into the Reviewniverse, he takes on Jupiter's Legacy #1, New Avengers #5, Avengers #10, Uncanny Avengers #7, Fury #11, Avengers Arena #8, Young Avengers #4, FF #6, Fantastic Four #7, Uncanny X-Men #5,Guardians of the Galaxy #2, Wolverine and the X-Men #28, The Flash #19, East of West #1+2, Mind MGMT #10, Superman #19, Batman Inc #10, 2000AD #1829...Sweet Krypton that's one bulging sack of comics. Disembodied Narratorbot X-15735 hope that his spacegod brain has not been permanently corroded…
And then…
Disembodied Narratorbot X-15735 v.2 is very sad to present: <ITEM> The Beast Must Die goes solo also, presenting the podcast version of a triple disc concept album about the English Civil War, played on banjos, synth and kitchen equipment …unlistenable rubbish!
<ITEM> Thank you listener jingles – booty bass and barbershop quartets? YES.
<ITEM> The hirsute one hop, skips and jumps straight into the pulsing warm embrace of the Reviewniverse II spouting opininon-forms on Young Avengers, Jupiter's Legacy, Fury Max, Avengers Arena, Rachel Rising, BPRD: Vampire, Batman IncHaunted Horror, Wolverine & the X-Men, FF, East of West and Katana.
Now Disembodied Narratorbot X-15735  v.1 & v.2 come together to wish the listenerds well, and to reassure that this is not Yoko Ono time, no fear, no sir…this not Abbey Road time…Silence will resume normal service (ie embarrassingly amateur) next week. But for now…'enjoy' as best you can.
SILENCE! is proudly sponsored by the two greatest comics shops on the planet, DAVE'S COMICS of Brighton and GOSH COMICS of London.