OR: MINDLESS LINKBLOGGING, SPECIAL "ALL BASTARDS MUST BE AGGRAVATED!" EDITION!
As you hopefully noticed, we spent a large part of last month bringing you the best in bastardry.  We've got some spooky Notes From the Borderland coming up in time for Halloween, so right now seems like as good a time as any to collect all of our bastardly musings together and to celebrate the cruel simplicity of the banner The Beast Must Die created for the event: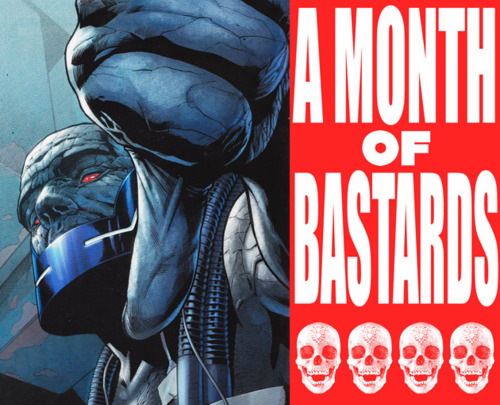 Hopefully you'll be able to forgive me for indulging in a little bit of back-patting here while I take you through AN INDEX OF BASTARDS!
DARKSEID IS… looking pretty fucking slick, actually! Click here to experience MAXIMUM BASTARDATION!
Here's May's Cartoon County podchat for your ears. This month we talked to Kino Club founder, Adam Whitehall about Steve Aylett's documentary on notorious sci-fi author, Jeff Lint. Here's a snippet.

The chat gets a little Brighton-centric at times but is filled with interesting ideas.  We also have a brief chat with Sean Duffield on his finally completed anthology, War: The Human Cost, and the announcement of Myriad Editions' First Graphic Novel competition.
[audio:https://mindlessones.com/wp-content/uploads/2011/06/Lint-The-Movie1.mp3]
Click to download
Still thoroughly brain-blown by last week's viewing of Adam Curtis' latest film, "It Felt Like a Kiss', I've gone a bit doolally and found links for a whole Curtisathon. Old hat, good hat:
First, two recent bites from Charlie Brooker's Screenwipe/Newswipe shows. This one covers the abasement of  TV journalism as a career path for people who like to bear the sight of their own reflections; and this one on the geldoffisation of event politics. When people say Live Aid killed Rock 'n'Roll, previously the world's last best hope of cultural salvation, this is what they mean, and why it matters. (b)