BACK TO NATURE, THE VOYEUR WILL REALISE THIS IS NOT A SIGHT FOR HIS SORE EYES
I sit here and stare. I wait. It is coming. It will come. It is out there, searching for me. Sniffing the air, turning it's head towards where I wait. I must be calm. I cannot run, I cannot hide. There is no point. I need it and it needs me. We are meant to be together even if it means our mutual destruction. Nearer. Nearer. I can feel it now. It is … it is here.
THE BLURB IS HERE
<ITEM> PHEW What a scorcher! It's only time for another SILENCE! and what a shaggy misshapen beastie this is. But pet it and you will see it has a lot of love to give. So settle on the veranda, plug in old Gary Lacytus & The Beast Must Die and let our verbal fingers do their aural massage.
<ITEM> Let's see. We've got Illness, Gary's Bible Studies, Fraser Geesin's Amusing Character Videos, Mortimer & Whitehouse Gone Fishing, House of X, LOEG Tempest, Kevin O'Neill…and that's just the intro! Throw in some Sponsorship and now we're making gumbo!
<ITEM> The Reviewniverse is calling you. Will you answer? Inside it is The Beast Doesn't Care About Superheroe Films, Walking Dead, Jack Kirby's Prisoner, Mark Evanier's 100 Things I Have Learned About Comics, Editors,  Wild & Crazy Guys, Killer Groove, Marvel Action Avengers, Evan Dorkin, How Did This Get Made, Neighbours and more
<ITEM> There's a special Beast Unboxing with guest start Gareth Hopkins, talking about Best of 2000AD Monthly, New Teen Titans Drug Awareness, X-Force, The Shadow Strikes, Spectacular Spiderman, Fashion in Action, Later Eraser & Pressbutton, Loner, ABC Warriors, Fantastic Four, Iron Man, Fuff, Days of Hate, Marvel 2 in 1, Crytsar the Crystal Warrior, Comics Forum and Man Thing. 
<ITEM> YOU'RE AN ITEM!
@silencepod
@bobsymindless
@frasergeesin
@thebeastmustdie
You can support us using
Patreon
if you like.
This edition of SILENCE! is proudly sponsored by the greatest comics shop on the planet, DAVE'S COMICS of Brighton. It's also sponsored the greatest comics shop on the planet GOSH! Comics of London.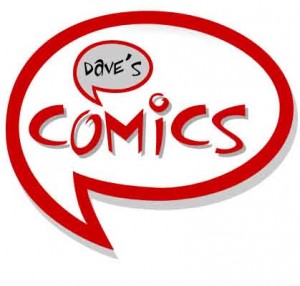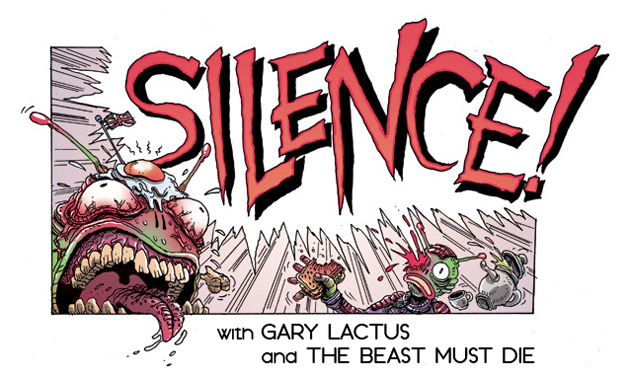 WHAT ABOUT YOU MACREADY…YOU BELIEVE ANY OF THIS VOODOO BULLSHIT?
Yesyesyesyesyes…them boys will do us proud! Watch now as they lead us skipping merrily towards the churning, swirling waters of the River Styx…with the nudest podcast in comics, SILENCE!
Firstly Lactus has his guitar unsheathed and isn't afraid to use it. Then it's the SILENCE News (which is in all honesty an extended pimp session for Glyn Dillon's Nao of Brown as well as a big-up of Brit comics hero Paul Gravett). THEN, the newly sponsored Beast and the always sponsored Lactus barge into the week's comics like a couple of burly lady wrestlers.
And there's a whole heap of comics to talk through too, like, oh let's see…Rocketeer Cargo of Doom, the beautiful looking Winter Soldier, Saucer Country, Wolverine & The X-Men, Uncanny X-Force, AVX, AVX: Uncanny X-Men, Avengers Assemble, Shade, Incredible Hulk, The Creep, and Frankenstein Agent of SHADE.
Then there's a special guest review of Batman #0 from friend of the show The Wange, and the SILENT Question is brought to you from Machine Man (and the answers involve Ultron, Herbie, Call Me Kennneth, GI Robot and the ABC muthafuckin Warriors).
Add in ANOTHER Dredd (3D) review from The Beast and a recommendation to listen to the Nerdist podcast with Henry Rollins and you have a truly revolutionary audio-visual-taste explosion in 4-D…it truly is SILENCE no.31 and you're not.
SILENCE! is proudly sponsored by the two greatest comics shops on the planet, DAVE'S COMICS of Brighton and GOSH COMICS of London