OR: MINDLESS LINKBLOGGING, SPECIAL "ALL BASTARDS MUST BE AGGRAVATED!" EDITION!
As you hopefully noticed, we spent a large part of last month bringing you the best in bastardry.  We've got some spooky Notes From the Borderland coming up in time for Halloween, so right now seems like as good a time as any to collect all of our bastardly musings together and to celebrate the cruel simplicity of the banner The Beast Must Die created for the event: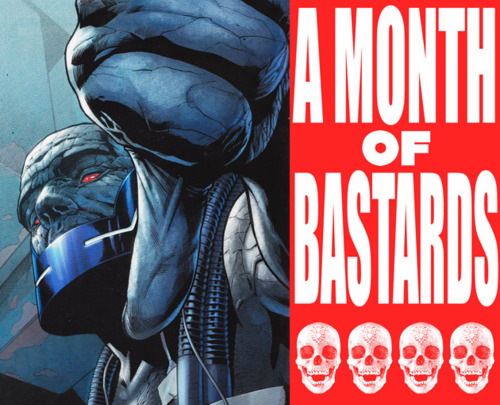 Hopefully you'll be able to forgive me for indulging in a little bit of back-patting here while I take you through AN INDEX OF BASTARDS!
DARKSEID IS… looking pretty fucking slick, actually! Click here to experience MAXIMUM BASTARDATION!
I don't usually deal in the sort of criticism that tries to find the spirit of our time in this or that piece of pop culture detritus, but for the past few years I've felt smothered by four little words – THERE IS NO ALTERNATIVE! – and every time I see or hear a variation on that theme, there's only one face I see.
No point in trying to keep the bastard stuck in a corner anymore.  You can only fight him off for so long, you know?
It's time to let Darkseid out of the box: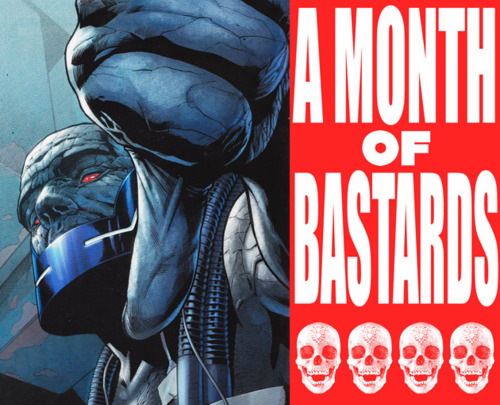 Awright troops, Illogical Volume here, with a bit of fine
imported basterdry for ye!
Like another recent guest post, this one started with a tweet from Bostwana Beast.
I'm not sure that aka the Original Eyeball intended to start a fight here, but he should've known no tae challenge a proper weegie baistart like my pal Scott McAllister, aka Mr Attack, aka The Boy Fae the Heed, because a man like Scott disnae back down fae fuck aww.
Well, at least not when there are Transformers involved. Anyway, that's enough of my pish. Here's what the lad Scott had to say about Thunderwing:
It's another day at the office in Marvel UK in the late 1980's. Creative license tells me that at this point in history, it would be dark all the time, and it would be raining. A package has been couriered over from Hasbro, and contains the latest information on new products that must be featured in future issues of Transformers. By this point, the engineering has gotten less interesting, and the toys can be changed in about two or three moves. Quite often these days, they are accompanied by a humanoid shell to contain them in, like a a sarcophagus with arms that can only rotate at the shoulders. A quick glance of the villains line-up reveals it looking more and more like the cover to an Iron Maiden single.
On top of that, with Budiansky departing the American book, it seems the personalities of the toys have fallen into the doldrums, with each character little amounting to endless variations of "he is so bad, so very, very bad", "he is soooooo good it hurts", "he is evil because he is mental and robots don't do meds" or "he's sort of a good guy, but if we're honest he's a bit of a wank".
Now, if you're one of the cartoon writers, you stare into the mirror, remind yourself you're too good for this shit and that you're only in it for the money, so you recycle the plot of some other show you wrote, and have the new villain you've been requested to début elect to secretly build some giant weather-controlling device, or hypnosis booth or some shite, and have him turn up at the end as the mastermind of it all, to get his ass kicked.
But, you're not one of those guys. You are Simon Furman. Simon Furman only has one question in his head EVER. "How can I make this guy interesting so that he'll be remembered long after I kill him to bits?".
Wanna see a masterclass in how to make people give a fuck? Then click on dear readers, click on!