A few years ago I was asked to provide a back-up strip for a notable sci-fi comic that Image was publishing at the time. It didn't end up being used but I thought I might share it with you for this whole Mindless Decade shebang. Enjoy!
Share on Facebook
by Plok
Bono to vada, Bloggers!  It's been a while, hasn't it?
You know, writing something for the Mindless Decade has proved to be, for me anyway, an interesting challenge.  What do you get, for the blog that has everything?  Something thematic, probably…
But just what is the theme, of this multifarious 4D pink tentacled worm of a site?
Share on Facebook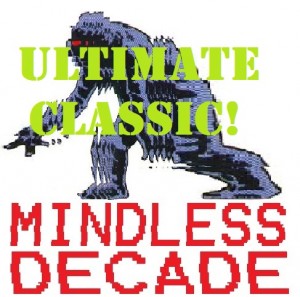 For my own contribution to the MINDLESS DECADE! I thought I'd go back to May 2015, when in one of my occasional bursts of productivity I wrote ten thousand words or so on Multiversity in a little over a day.
Since then, I've released that series of essays as an ebook, which you can normally find for sale here for ninety-nine cents (I also have a much longer book on Seven Soldiers and a collection of my Doctor Who essays that I posted here, but those cost more money).
However, for the next week, as part of MINDLESS DECADE, you can download the ebook version for free. Here's the epub version for non-Kindle ereaders and here's the Kindle version. These links will be up for the next week, so download, read, and keep these treasured nostalgic memories of the MINDLESS DECADE!
Share on Facebook