Or "What's A Bottie Beast?" – A Love Story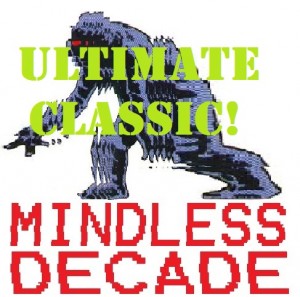 Illogical Volume here, writing a wee introduction to an ULTIMATE CLASSIC! post by another Mindless because…. well, almost two years down the line, I'm still stuck on the Botswana's Beast's last post on Multiversity, still trying to get a feel for what it's doing, how it works.
It has something to sell you, sure, but it also wants you to ask what you're buying.
It's a bit like the comics themselves that way…
Some of the questions raised by this post still haunt me, primarily:
Who the fuck is the Botwsana Beast, Duncan Falconer, the Dead Demon Rider?
What's the shape of our relationship?
Why do I care?
These are transposed thoughts about my relationship with Multiversity's primary architect Grant Morrison, I think, though the process goes both ways – any increase in my familiarity with one seems to magnify my sense of intimacy with the other.
All of this is basically just me allowing myself to ask the standard English Lit question – "Who is this bastard and why is he lying to me?" – on a level that is disgracefully familiar. Having called him a bastard and accepted that he is probably lying to me at least some of the time – because hell, we're all probably lying to ourselves at least some of the time – the challenge is to take this process to its unnatural conclusions…
Why do I care about Duncan?
Because he was on the Barbelith forum, where he was obviously Scottish, properly narky and endlessly left wing
Why should any of that matter?
Because it suggested that he was just like me, basically, but with better jokes.
Is that really all you wanted from the world, to go out and meet yourself in it?
No, and I won't settle for the promise of self-knowledge either but hey – it might be a start!
If this seems like a fairly flimsy basis for letting someone into your mental space, making them a part of your consciousness and letting yourself worry about their happiness, ask yourself – who else have I made time for? Does writing some Animal Man comics provide better grounds for letting someone into your heart? Probably not, but that doesn't mean we should write the whole thing off.
Nor does it mean that we should stop questioning what shapes we're making ourselves into, how what we're doing with our networks is allowing those networks to change us.
When I think of these comics, and the people that we've met through them, there are two words that keep coming to me, a worldview implicit within the mess of friends and fantasies I live in: "anguished materialism", of the sort that might be understood by people who have tried to change the world using art and sigils alone and come up short. Because if we're going to do this, if we're going to trade in fictions that promise to rebuild the world around us, please let there be materialism in the mix. Please let there be an understanding of how bodies are exploited and turned again themselves, of how we'll have to trade our best intentions for rent money once our spirits have been broken. Please let there be an awareness of the forces of production, but let there also be some anguish in there, let there be a determination that we can't keep going on like this.
The sigil kids have had enough. They know that things don't have to be this way, and that our times call for determination to fight and space to dream.
This is what I think about when I think of Duncan Falconer, the Botswana Beast, the Dead Demon Rider, without whom I would never have written for this website.
This is what his last post on Multiversity engineers, piece by piece, through its appeals to shared knowledge, to all of us… a machine built to contain the worst of the world in which it was created, but which is also designed to amplify the best of it, to give our hopes some form that might survive in the worlds yet to come.
Endtroducing…
HOW TO PASS THROUGH A PORTAL
Here, the map is the territory.
This is about to get seriously earnest, adjust your sets… I've read Grant Morrison comics from the age of 7, on and off (I was too much of a wimp for 2000AD as a teen and Batman: Gothic shat me right up), starting with this one and pretty much consistently every one for the last near twenty years (I didn't get Final Crisis: Secret Files, a decision which haunts me still, and haven't been keeping up with 18 Days, which is just barely a Grant Morrison comic), since semi-rediscovering him through The Invisibles.
"Yeah. I guess the fighting never ends, does it? It never ends."
Share on Facebook
(or 'How the Mindless Ones Probably Saved my life')
(and/or also maybe 'How the Invisibles Spell Failed But Also Kinda Worked')
by Erstlaub
I had in my head that it was our benevolent Pope, Robert Anton Wilson that had said 'find the others', of course, it wasn't, or rather it was, but he was directly quoting Timothy Leary in Quantum Trigger I when he did. Of course once I finally got round to reading Wilson, I already kind of knew it all via Morrison's reseeding and threading but there you go. Anyway, it seems sort of apt to chuck this out epigraphically as the rest of the text is concerned with how connections are important and how although The Invisibles didn't quite pan out the way it was intended in our universe, that maybe in some respects it did.
"Admit it. You aren't like them. You're not even close. You may occasionally dress yourself up as one of them, watch the same mindless television shows as they do, maybe even eat the same fast food sometimes. But it seems that the more you try to fit in, the more you feel like an outsider, watching the "normal people" as they go about their automatic existences. For every time you say club passwords like "Have a nice day" and "Weather's awful today, eh?", you yearn inside to say forbidden things like "Tell me something that makes you cry" or "What do you think deja vu is for?". Face it, you even want to talk to that girl in the elevator. But what if that girl in the elevator (and the balding man who walks past your cubicle at work) are thinking the same thing? Who knows what you might learn from taking a chance on conversation with a stranger? Everyone carries a piece of the puzzle. Nobody comes into your life by mere coincidence. Trust your instincts. Do the unexpected. Find the others…"
My own journey feels distinctly tangential to the standard secret origins of most of the Mindless Ones (not that they all have a shared cosmic space ray explosion origin to the best of my knowledge). I only really know the Barbelith message boards vicariously through the whispered gossip of the past and the occasional shit talk about the latest awful comics person that it turns out is a horrible sexist/racist/arsehole that someone called out way back then (usually Bobsy or Botswana Beast it seems).
So anyway. I was something of late convert to Morrison (I wasn't, I was actually indoctrinated ridiculously early by somehow convincing my mum around 1988 that, at the age of 8, a weekly subscription to 2000AD would be a fantastic idea and as such was inoculated against The Achrons through the immense and terrifying weekly download of Zenith in its pages through my letterbox along with the Saturday papers) but acted as a sort of sleeper cell eventually reconnecting somewhere in the mid 2000's I'd guess, picking up the trades of 52 and then grabbing the baton and running with it like the Black Racer. (of course I owned and knew Arkham Asylum from probably around the time it came out but who didn't?).
So this technically isn't another bit of writing on the internet about how good big Granto is (well, it sort of is but there's context, plus, y'know, he really IS pretty damn good and eventually I will reach a point but hey, just go with it)
Share on Facebook
AND IT CAME TO PASS that fully paid-up member of women Maid of Nails, deep Dundonian Botswana Beast and comics artist/aesthetic superstar Dan McDaid had many thoughts regarding the Justice League.
The BS nature of "good immigrants vs. bad immigrants" stories, the mind of Morrison, the paranoia that comes with mortality – all is laid bare in this exclusive audio recording from one of the many times they got absolutely fuckin' tanked.
Is it, as Dan said, "the worst podcast ever"? I mean, probably. But there's only one way to find out….
https://drive.google.com/file/d/0B7Wd3DomYYztOEVOOC0yeF91WU0/view?usp=sharing
The bunny/duck optical illusion of our times
I show my friends I care by obsessively tracking every detail of their lives
The smell* of urban magic permeates the air
*it smells like Silk Cut and wine voms
Share on Facebook