Being an irregular series wherein I spotlight some particularly beautiful cover runs, from some comics you might have forgotten about, or never seen before. First up, Mark Wheatley and Rick Burchett's idiosyncratic lost gem from the short lived !mpact Comics, The Black Hood.
Share on Facebook
A bit battered, spine ripped right off, but still – 44 years of existence, mine for a mere seventy-five pee.
Batman Annual 1967.
It's all reprint, but the cover looks like original art commissioned in the UK – check the oddly Blyton-esque Robin, a schoolkid larking about like he's in an infinitely cosy boys comic of the day, or an underage soldier, meat for the melodrama of a WWII book. Check Batman, smiley of face and cheeky of chin, with a prop-forward's physique.
Share on Facebook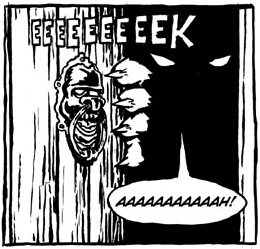 Welcome weary traveller, come in from the rain. Pull up a mildewed stack of Doug Moench's Spectre comics and rest your tired posterior. Take a sip of lukewarm tea and we can leaf through these recently acquired second hand graphic novels together, to fight off the pangs of longing till new comics day….
Share on Facebook