Neil Gaiman is one of the most charming and popular writers to ever escape from comics. Famed for his extended runs on The Eternals and Hellblazer, as well as for his transcendental novels Mirrormask and American Gods, Gaiman's name has become a synonym for so many words that it's threatening to replace our whole language: "dreamer", "storyteller", "vainglorious tout"… all of these words and phrases are contained within him now.
Soon, no thoughts will be safe!
But all of this is as obvious as breathing and twice as much fun.  What can we tell you about Neil Gaiman that you don't already know?
1. While everyone knows about the Dreamsqueezer's massive contributions to 2000AD, the fact that he cut his teeth for DC Thompson is less commonly discussed or understood. Working under a series of bewitching pseudonyms and accepting payment only through a convoluted array of shell companies, Gaiman honed his craft, taking the staid comedy routines that had trapped characters like Oor Wullie for decades and transforming them into something strange, something other:
Gaiman is often hesitant to discuss his early work, but in the deep, dark woods of his infamous 2008 radio interview with Jonathan Ross, the bewitching Duran Duran biographer compared these early strips of his to "the very best of Kafka".
Rumours abound that Deep Space Transmissions archivist Ben Hansom will be debuting a new website this summer that is wholly dedicated to unpacking Gaiman's contributions to the DC Thompson line. When approached for a comment, Mr Hansom maintained a knowing silence while letting a smile eat his whole face.  Gaiman into that what you will.
Click here for more red hot Gaiman!
Share on Facebook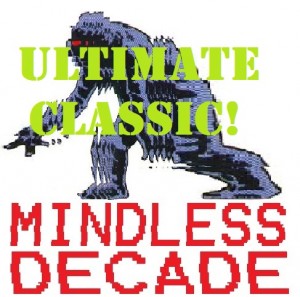 I often find myself being drawn into arguments where I know almost every example of the thing I'm defending is bad yet still feel compelled to argue for what I believe to a worthy principle.
"Text section in comic books" is one example. People can tell me that they're often bad (they are!) or that good comics writers aren't always good prose writers (they aren't!) but no matter how many pointed examples they come up with I'll still find myself determined to argue that they're closing off possibilities we can't afford to lose.
Carla Speed McNeil's Finder provides a good, if typically atypical, counterargument.  Every time I read the comics sections I find my brain racing in a million new directions, lost, determined to find answers to questions I'm struggling to formulate.  Every time I read McNeil's annotations I find myself presented with answers to a whole other set of questions, all of which are equally mysterious to me.
This shouldn't work.
It does.
Finder is two different comics every time I read it…
Share on Facebook
I've tried to hide from the truth, but wherever I go it finds me… whatever age I might claim to be, right here, right now, I'm an Internet Grampa.
As soon as a columnist finishes the first draft of an article bemoaning the hordes of trolls that lurk under every digital bridge, I'm knocking at their front door, ready to warn them that they're at risk of demonising dissenting voices, that they might just be confusing those guys who're always two clicks away from a rape threat with those who simply don't want to bow down to the guy who wrote The IT Crowd.
Whenever a young man is about to serve up a freshly baked Game of Thrones meme, I'm limbering up so I'm ready to come crashing through the rafters like the world's shitest Santa!  As soon as that image is sent out into the world, I'm there, covered in plaster dust but still willing to deliver a pointless lecture about the good old days when you needed more than thirty seconds on their phone and a snazzy font to contribute to a fandom.
And don't think you've escaped my reign of tedium! Next time you like something that a casual acquaintance has posted online I'll be there, tucked up in your jumper drawer, just waiting to have a conversation about why Livejournal was a better platform for conversation than whatever the fuck it is we're using now.
To my fellow Internet Grandparents, all I can do is offer you condolences and love!  You're at least as wrong as you are right, but like you I feel the pull of the copper-clad garden, and like you I'm not quite ready to give up on the whole damned thing!
But let's go back a bit, see if we can figure out what the damage is and where it was done…
Share on Facebook