I wrote most of this a month ago, but have spent most of the rest of the month extremely ill, and never got round to finishing it and posting. Whoops. All the Easter stuff in here seemed a lot more topical at Actual Easter rather than May 1. Oh well. The next one of these will be published in a week, to get us back on to schedule with them…

And so we get to the point in the crossover where the exciting new characters are introduced for the first time.
Share on Facebook
Sorry for the slight delay on getting this post out — we've been busy on here with the MINDLESS DECADE, and I was also busy getting my most recent book out while coping with chronic illness flare-ups.
Anyway… Crisis on Infinite Earths issue three.
Share on Facebook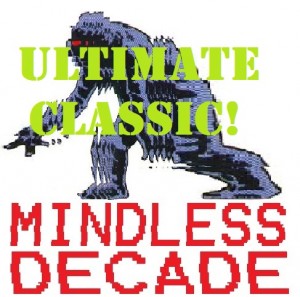 For my own contribution to the MINDLESS DECADE! I thought I'd go back to May 2015, when in one of my occasional bursts of productivity I wrote ten thousand words or so on Multiversity in a little over a day.
Since then, I've released that series of essays as an ebook, which you can normally find for sale here for ninety-nine cents (I also have a much longer book on Seven Soldiers and a collection of my Doctor Who essays that I posted here, but those cost more money).
However, for the next week, as part of MINDLESS DECADE, you can download the ebook version for free. Here's the epub version for non-Kindle ereaders and here's the Kindle version. These links will be up for the next week, so download, read, and keep these treasured nostalgic memories of the MINDLESS DECADE!
Share on Facebook