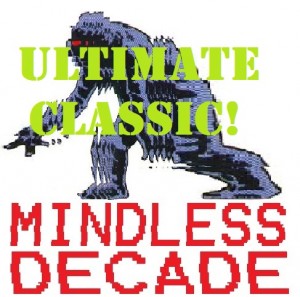 I often find myself being drawn into arguments where I know almost every example of the thing I'm defending is bad yet still feel compelled to argue for what I believe to a worthy principle.
"Text section in comic books" is one example. People can tell me that they're often bad (they are!) or that good comics writers aren't always good prose writers (they aren't!) but no matter how many pointed examples they come up with I'll still find myself determined to argue that they're closing off possibilities we can't afford to lose.
Carla Speed McNeil's Finder provides a good, if typically atypical, counterargument.  Every time I read the comics sections I find my brain racing in a million new directions, lost, determined to find answers to questions I'm struggling to formulate.  Every time I read McNeil's annotations I find myself presented with answers to a whole other set of questions, all of which are equally mysterious to me.
This shouldn't work.
It does.
Finder is two different comics every time I read it…
Share on Facebook
Because everything is entropy right? It's always all downhill. Part of our ten-year challenge has been to find old posts that we like and can bear to  bring up and choke on again.
This is where I realised that the first post I wrote for the site was my best and favourite, and also offers an excellent opportunity to rededicate myself to John [E.] Smith -  comics greatest lostest poet, who even pops up in the comments on the original because blogs make dreams come true.
Apologies for my bad writing and any broken 10 y.o. pic links or whatever. "Enjoy."
Dee do dough don't dee dough? or why Hellblazer #51 is the title's best issue
If I have to make up a bloggy reason why this post was written, it's recent noise from the Factual Opinion that Andy Diggle's current run on Hellblazer is the best it's been in years. I picked one up, saw with relish that the colour palette they're using still contains every conceivable shade of mud, put it down. To say it's currently firing on all cylinders isn't saying much, as Vertigo's old horror warhorse is a perpetual disappointment, which it shouldn't, because the basic ingredients are so solid. It's about the street-sorcerer John Constantine, magic, and a bit of London grime, all mixed together with a quip and a crafty fag. Despite these perfect alchemical elements something inevitably goes wrong with the final potion, which rarely drips the creep and splatter I hunger for from anything so keen to proclaim itself a horror comic.
Share on Facebook