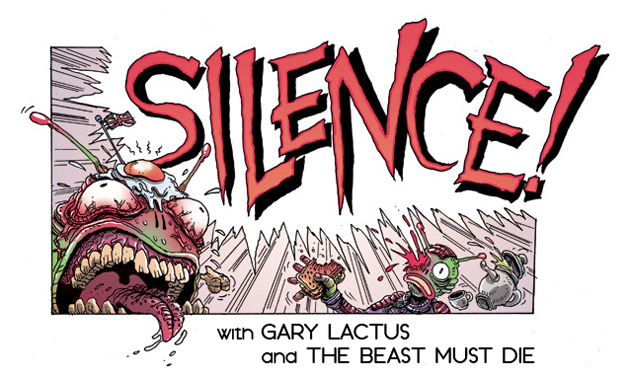 I LIKE LOU REED SHE SAID, STICKING HER TONGUE IN MY EAR!
Well now, if it isn't those meddling kids…I thought I told you to stay away from this here haunted podcast! Welcome gentle listenoids to SILENCE! no.29, the podcast that, like Michael Bolton, is asking to touch you there. Join Gary Lactus and the Virtual 3D Godhead The Beast Must Die as they lead you skipping through The SILENCE News (with kittens and trolls), before immersing themselves into the depths of…comics.
They have a sobering time with Steve Gerber's comics swansong Infernal Man-Thing no.3, a West country wade through Mudman no.5, and the usual fun with Prophet and Axe Cop. Then Lactus pulls up his britches and smashes headfirst into Man Vs Comics, covering Wolverine & The X-Men, FF, Avenging Spiderman, Justice League, AVX Vs, National Comics: Looker, The JLI Annual (with a digression into Tromaville). He also has nice things to say about The New Deadwardians.
The Beast's Bargain Basment takes in Eddie Campbell's Alec, in particular the King Canute Crowd which involves a fair amount of wistful musings from the Beast. There's a special Silent Question from that cosmic beatnik The Silver Surfer, and the answers involve The Shadow, Cosmic Boy, Goliath, The Question and Dr Fate.
Then there's a brief discussion of the new series of Dr Who, and then it's into the home stretch and off to bed. That's some good eatin' (listening) for ya. That's SILENCE!
Click below for a picture of the Vision in a turtleneck…